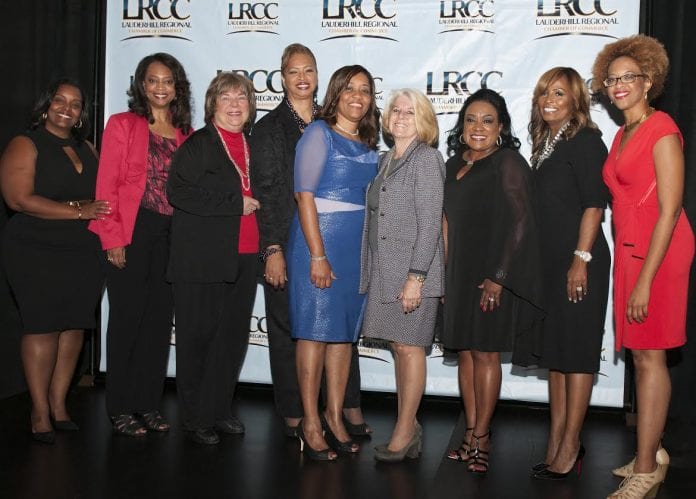 Nine Influential Women Announced
This years theme for the 4th annual awards breakfast "Rise Up!", will take place on March 3. During an exclusive VIP reception on January 19th, the Lauderhill Regional Chamber of Commerce (LRCC), revealed their 2017 honorees for the 4th Annual Women of Distinction (WOD) Awards Breakfast, powered by the Florida Panthers. After being nominated in November, nine of Broward County's most influential women have been selected. The women will be honored on March 3rd, from 7:30 a.m. to 10:30 a.m. at the BB&T Center.
The Annual WOD awards breakfast is the hallmark event produced by the Lauderhill Regional Chamber of Commerce to honor powerful women of Broward County. Attended by the highest esteemed business owners, professionals, public officials, tastemakers and movers and shakers, this three-time sold out event continues to attract a diverse and influential audience. In the past three years, the WOD award has honored numerous of women in Broward County who are at the peak of their profession and make significant contributions to improving the quality of life in Broward County. Themed "Rise Up!" this year, the LRCC has selected another group of powerful women who exhibit qualities of strength, excellence, and empowerment.
Melissa P. Dunn, MBA – President of the Lauderhill Regional Chamber of Commerce, is ecstatic about this year's honorees. "Our Women of Distinction Honorees represent thousands of women who work hard and serve others while balancing family and career.  By honoring them, we are honoring girls who aspire to become them.  We are affirming that women can lead and succeed."
Meet the 2017 Women of Distinction honorees:
Veda Coleman-Wright – Public Information Office Director, Broward Sheriff's Office
Dr. Traci Lynn –  CEO, Traci Lynn Jewelry
Nerissa Street –  Founder, Be Your Own Answer
Dee Thompson – CEO, Dee Thompson Speaks
Karen Pandy-Cherry – President, Refresh Live Foundation
Sandra Carey – Deputy Consul General, The Bahamas
Donna Borland – General Manager, VITAS Healthcare
Sherry Friedlander-Olsen – Founder, A Child is Missing, Inc.
Ilene Lieberman – First Female Strong Mayor in Broward County