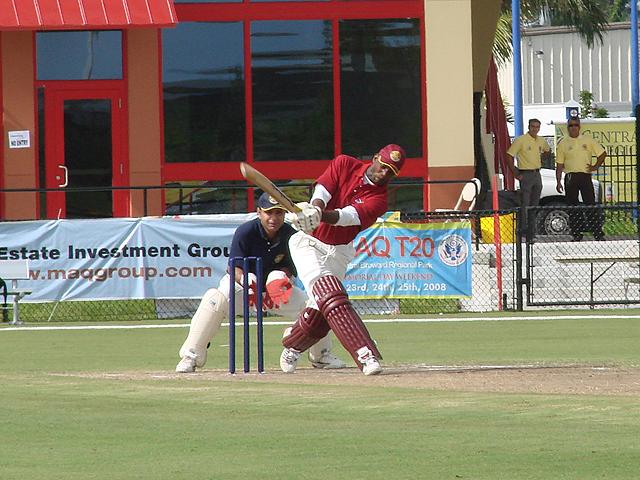 Palm Beach Titans defeat Southshore by 49 runs via the Duckworth Lewis Stern method, while St. Bess and Tropics United get by Lauderhill Jammers and St. Lucie by 32 and 25 runs respectively in the South Florida Cricket Alliance T20 last Sunday.
In Port St. Lucie at Girl Scout Friendship Park, St. Lucie vs. Tropics United.
Tropics batting first, made 143 for 6 from their allotted 20 overs. Philerm Davis topscored with 62, Ernie joseph 26, St Christopher Brown 13 and Bert Davis 12. Bowling for St. Lucie, Charles Reid and Glen Scott each taking a wicket for 13 and 22 respectively, while three wickets went via run out.
Replying, St. Lucie could only manage to make 118 for 6 from their 20 overs. Charles Reid got 45 Not Out, Neil Greene 21 and Richard Louis and Glen Scott 17 each. The main wicket takers for Tropics United are Marcel Graham 3 for 33 and Mohammed Siddique 2 for 12. Tropics won by 25 runs.
Lauderhill Jammers vs. St. Bess at the Lauderhill Sports Park.
St Bess 192 for 6; Ricky Nayar and O'Brian Jones 42 each, Antonio Scott 27 and Atul Iyer 23. The wicket takers for Lauderhill Jammers were, David Brathwaite 2 for 22 and Aadam Khan 2 for 29.
In Reply, Lauderhill Jammers made 160 for 4 from 20 overs, Mark Johnson topscored 44 Not Out, Sheldon Irvin and Elvis Watson 24 each, while Timmy Surujbally chipped in with 21. Bowling for St. Bess, Kemar Blake got 2 for 35, giving St. Bess victory by 32 runs.
At John Prince Park, Palm Beach Titans vs. Southshore.
Palm Beach Titans 182 for 1, Sachith Kongahakotiwi 108 Not out (10sixes, 3fours) and Andres Fraser 48. Byron Bowes took the lone wicket to fall for 25 runs.
Southshore was 27 for 4 when rain intervened, giving Palm Beach Titan victory by 49 runs via the Duckworth Lewis Stern Method. The leading wicket taker for Palm beach was Leju Gevarghese with 3 for 14 from 3.5 overs.