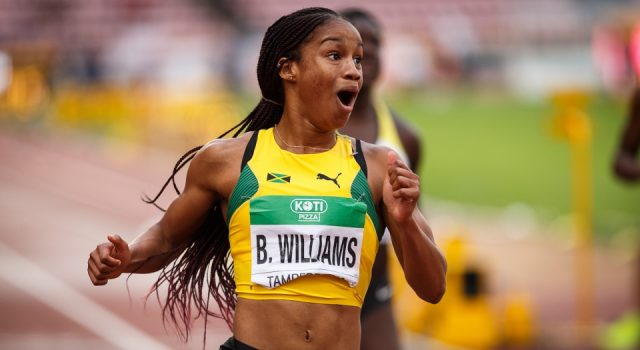 Jamaican-American Sprinter Briana Williams delivered on a promise to break her one-day-old Jamaican Under-20 record when she scored her second 100m win at the Duval County Challenge in Jacksonville, Florida on May 31.
The 19-year-old Williams, who had set a new junior record of 11.01 on Sunday, clocked a new personal best of 10.98, despite a poor start, to record her second win in two days.
Mikiah Brisco finished second in 11.09 with Dezerea Bryant finishing third in 11.14.
Williams had given a hint of what to expect in the preliminary round when she ran 10.97 to win her heat. However, the trailing wind of 2.5m/s prevented that time from being recognized as the Jamaican national U20 record.
In the final, the wind was only 1.0 m/s well below the allowable limit of 2.0m/s.
Williams, who set a national U20 record when she ran 11.02 in New Mexico in June 2019, clocked 11.01 at the JAC Summer Open, running at what she said was about 95 percent effort, as she was saving herself for tonight's race and that paid off tremendously with her 10.98 finish.
Williams wasn't the only Jamaican with a new personal best Monday night, as promising sprint hurdler Britanny Anderson clocked 12.59 to win the 100m hurdles. It was almost a duplicate of the 12.58 lifetime best she ran in the preliminary round, except for the poor start in the final where she defeated Christina Clemons, who clocked 12.64 for second place narrowly edging 2015 World Champion Danielle Williams who ran 12.65 for third.
Earlier, Javon Francis won his 400m race in 45.84. Quintaveon Poole was second in 45.87 and Myles Pringle third in 46.11.