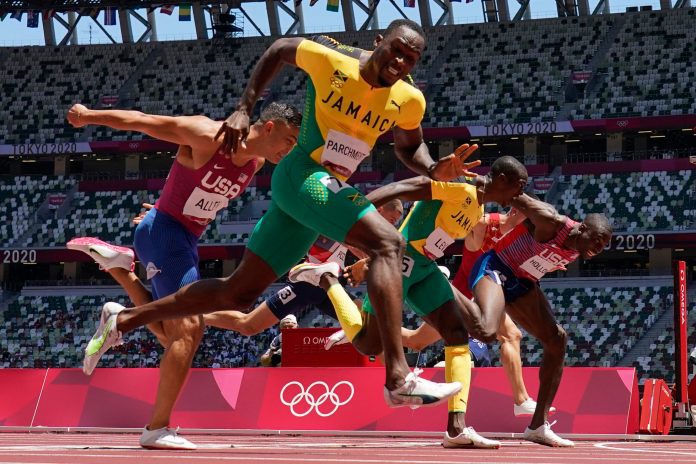 Jamaican 110-meter hurdler Hansle Parchment created a major upset in the event on August 4th, when he copped the Olympic gold medal ahead of the favorite, American Grant Holloway.
Holloway, the world champion, was ahead of the field for most of the race, but suddenly faded on the last hurdle. Parchment flew past him to add an Olympic gold to the bronze medal he won at the 2012 London Games.
Hansle Parchment won in his season's best time of 13.04 seconds.
Holloway took silver in 13.09 and another Jamaican, Ronald Levy, had the bronze in 13.10 seconds. The former Olympic champion, Omar McLeod missed out on the games after failing to qualify at the Jamaican Trials in Kingston.
Parchment's win secures the first individual sprint gold for Jamaican men at the Tokyo Olympics.
"I had a lot of fun competing against Grant. It was a great opportunity to get three rounds with him [the two also ran in the same opening heat and semifinal], I got to see his crazy start," Parchment said in a post-race interview. "Sometimes it looks like he's already at the third hurdle when I'm just at number one. I went back and thought about my start, what I needed to do, and I told myself if I can get a little bit closer in the first half, I can catch him toward the end.
"And I did just that. I maintained my composure and I ran through the line."
The 31-year-old has had success on the global stage before: he was the 2012 London Olympics bronze medalist, and the 2015 World Championships silver medalist. But the last several years he's been derailed by injuries — including this year.
"I don't think I have all the words to explain right now.  I'm very happy, elated! It's been a long season, a rough season. I didn't have many races but I think I put all that was needed together to get this win," added Parchment, who spent much of his season working in the swimming pool due to leg injuries.
Jamaica's medal tally now stands at seven, comprising three gold, one silver and three bronze.