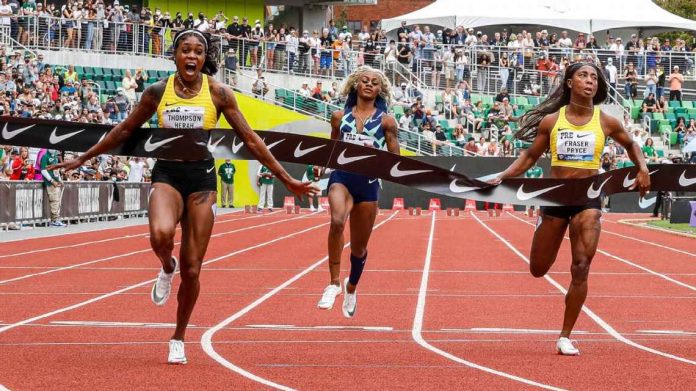 Jamaican Sprinter Elaine Thompson-Herah today won the Women's 100-meter event at the Diamond League meet in Eugene, Oregon.
In what was said to be the most anticipated women's sprint event in recent time, the fastest woman alive clocked a winning time of 10.54 seconds to affirm her title.
Elaine Thompson-Herah was just 0.05 seconds shy of the women's 100m record of 10.49 set by American Florence Griffith Joyner.
The 10.54 is a new meet record and a new personal best for the fastest woman alive.
Jamaica repeated their sweep at the Tokyo Olympics, with Shelly-Ann Fraser-Pryce coming in second (10.73) and Shericka Jackson taking third place (10.76)
In her first track meet since being suspended for marijuana use, American Sha'carri Richardson finished 9th in 11.14 seconds.
"It was a great return back to the sport," the 21-year-old said. "I wanted to be able to come and perform. Having the month off, dealing with all I had to deal with, I'm not upset with myself at all.
"This is one race, I'm not done. You know what I'm capable of. Count me out if you want to, because I'm here to stay."
Ahead of Richardson was another Jamaican, Briana Williams, who scored her first Olympic gold in the 4×100 meter event in Tokyo. Williams finished in 8th place with a time of 11.09.