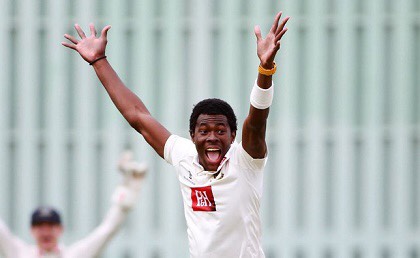 Barbadian all-rounder named Sussex's Player of the year
Barbadian all-round cricketer Jofra Archer has been rewarded for an outstanding season by being named  Sussex's Player-of-the-Year.
 He beat out strong challenges from his team batsmen Luke Wells and Stiaan van Zyl both of whom scored over 1000 runs during the recent County Championship.
Also Young Player of the Year Award
The 22-year-old, who has never played first class cricket for his home country, Barbados, also captured the Young Player-of-the-Year award. This was the second straight year he received the latter award. Both awards were made at the end-of-season function at the Sussex County Ground in Hove last weekend.
Archer's teammates Michael Burgess and George Garton were also nominated for the Young Player-of-the-Year honor.
First full season
Archer, in his first full season of County cricket following a handful of matches at the end of the 2016 season, finished with a remarkable tally of 638 runs and 61 wickets in the County Championship.
Overall, he scored 764 runs and snared 84 wickets across all three formats during the season.
Archer, who also qualifies to play for England in international cricket, was last week rewarded with a long term contract with Sussex which keeps him at the south-east club until the end of the 2020 season.
For update on cricket in the Caribbean island of Barbados, click the following link: https://www.caribbeannationalweekly.com/sports/new-president-barbados-cricket-association/