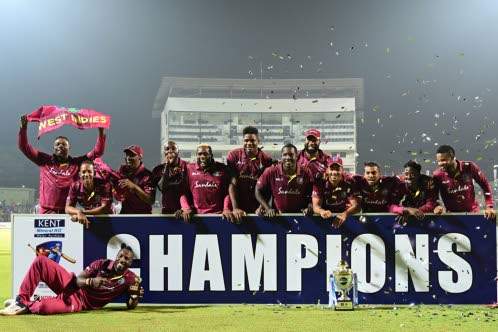 KANDY, Sri Lan­ka – All-rounder An­dre Rus­sell put to rest any lin­ger­ing fears over his fit­ness with an ex­hil­a­rat­ing Man-of-the-Match per­for­mance as West In­dies swept their Twen­ty20 In­ter­na­tion­al se­ries with a con­vinc­ing sev­en-wick­et vic­to­ry over Sri Lan­ka in the sec­ond match on Fri­day, March 6.
Asked to chase a mod­est 156 at the Pallekele In­ter­na­tion­al Crick­et Sta­di­um, West In­dies stormed to their tar­get with three overs to spare, to al­so send a stern warn­ing to ri­vals ahead of this year's T20 World Cup in Aus­tralia.
While Shim­ron Het­my­er stroked a mea­sured 43 off 42 balls and open­er Bran­don King daz­zled with 43 off 21 balls, it was Rus­sell who grabbed the at­ten­tion with stun­ning 14-ball un­beat­en 40 which took the World cham­pi­ons over the line.
The 31-year-old trad­ed on­ly in six­es, crunch­ing half-dozen of them, and com­ing on the heels of a sim­i­lar ef­fort in the open­ing match on Wednes­day when he slammed a 14-ball 35, the ef­fort was enough to earn him Man-of-the-Se­ries ho­n­ours.
Be­fore the se­ries, the Ja­maican had not fea­tured in a sin­gle T20 In­ter­na­tion­al in near­ly two years and af­ter hob­bling out of last year's 50-over World Cup af­ter just four match­es with a bad knee which re­quired surgery, his in­ter­na­tion­al fu­ture ap­peared bleak.
Man-of-the-Match and Se­ries, An­dre Rus­sell … blast­ed a cameo un­beat­en 40.
There were no such con­cerns, how­ev­er, as he evis­cer­at­ed the Sri Lankan at­tack to hand West In­dies their first T20 se­ries win in their last six tours.
Rus­sell ar­rived at the crease in the 13th over when Rov­man Pow­ell holed out to a stun­ning catch on the deep back­ward square bound­ary by She­han Jaya­suriya off seam­er Da­sun Shana­ka, and quick­ly dom­i­nat­ed an un­bro­ken 55-run, fourth-wick­et stand with Het­my­er off just 26 de­liv­er­ies.
He took a sin­gle from the first ball he faced but then blud­geoned leg-side six­es off the next two balls he faced at the end of the 14th over from pac­er Lahiru Ku­mara.
Het­my­er, who struck just three fours, was then re­duced to the role of spec­ta­tor as Rus­sell belt­ed six­es in every over. His fi­nal one – a crack­ing pull over mid-wick­et of medi­um-pac­er An­ge­lo Math­ews – sealed West In­dies' win in style.
A dis­joint­ed bat­ting per­for­mance had ear­li­er left Sri Lan­ka with a dis­ap­point­ing 155 for six af­ter they were sent in, with Shana­ka top-scor­ing with an un­beat­en 31 off 24 balls bat­ting at num­ber six.
Math­ews chipped in with 23 and This­ara Per­era, 21 not out, but the hosts strug­gled with mo­men­tum through­out their in­nings and al­so failed to find ac­cel­er­a­tion at the back end.
West In­dies were clin­i­cal up­front, fast bowler Os­hane Thomas bowl­ing Avish­ka Fer­nan­do for nine in the third over with 16 on the board, and left-arm spin­ner Fabi­an Allen (2-24) – who shared the new ball – re­mov­ing Jaya­suriya (16) and Kusal Per­era (15) in suc­ces­sive de­liv­er­ies in the sev­enth over with the score on 48.
Math­ews and Kusal Mendis (11) at­tempt­ed a re­build with a 33-run fourth-wick­et stand and when both fell with­in 15 balls of each oth­er as three wick­ets went down for 28 runs, Shana­ka struck three fours and a six in a 46-run, un­bro­ken sev­enth-wick­et stand with This­ara Per­era, to bol­ster the in­nings.
In re­ply, the Windies lost Lendl Sim­mons cheap­ly for nine in the third over with the score on 23 but an un­usu­al­ly re­strained Het­my­er put on 46 for the sec­ond wick­et with King and a fur­ther 34 for the third wick­et with Pow­ell to en­sure there was no im­plo­sion.
King count­ed half-dozen fours and a cou­ple of six­es be­fore top-edg­ing a short one from Ku­mara in the eighth over and af­ter Pow­ell al­so per­ished, Rus­sell took charge.