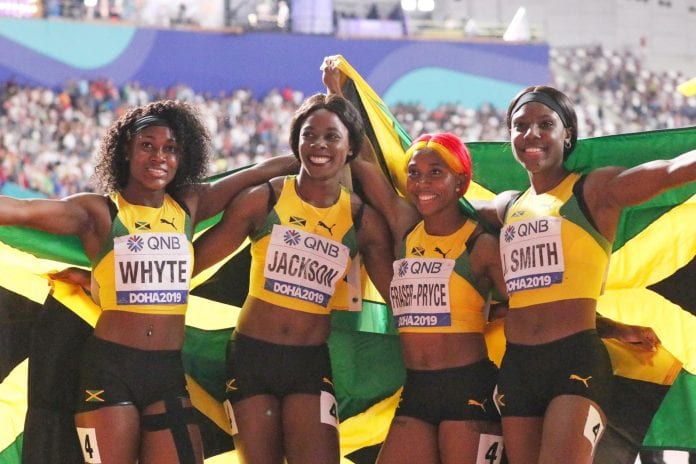 KINGSTON, Jamaica – Jamaica's outstanding athletes shone brightly on the world stage yet again after copping a dozen medals—three gold, five silver, and four bronze—at the just-concluded IAAF World Athletics Championships in the searing desert heat in Doha, Qatar.
In terms of sheer quantity, it was the second-best ever medal haul, only behind the exceptional 2009 edition led by the great Usain Bolt, as well as Shelly-Ann Fraser-Pryce, Melaine Walker, Veronica Campbell-Brown, and others.
Two years ago when Bolt called time on his illustrious career at the London edition, it brought with it much trepidation, and especially after the team performed so badly with a mere four medals, well short of the standard that the world had become accustomed to over the previous decade.
And although talent in the sprints on the men's side seems to have deserted the nation at present, talent in the field events has come to the fore in a most authoritative manner and has thus rendered the team a lot more balanced, as was cited in this space prior to the Doha meet.
Tajay Gayle leapt to a world-leading 8.69 meters for a surprise gold medal in the men's long jump competition and he was quickly followed by Shelly-Ann Fraser-Pryce with her fourth 100m gold in a world-leading 10.71 seconds, and on the penultimate day of the event, the women's 4×100 meters relay team romped home to a gold medal in another world-leading 41.44 seconds.
It was the first time Jamaica was winning a gold medal at a senior global championship, and the first medal since James Beckford earned a podium spot over two years ago.
That team comprised Natalliah Whyte, Fraser-Pryce, Jonielle Smith and Shericka Jackson.
Fedrick Dacres then landed a historic silver in the men's discus with a throw of 66.94 meters, the first-ever medal in this discipline at a senior global event.
There was another first when Danniel Thomas-Dodd copped silver in women's shot put with 19.47 meters, and Shaneika Ricketts also got a silver in women's triple jump with 14.92 meters.
The mixed 4×400 meters relay team earned a silver medal in a national record 3:11.78 minutes, having been contested for the first time. That team comprised Naton Allen, Roneisha McGregor, Tiffany James, and Javon Francis.
The fifth silver medal was won by the men's 4×400 meters relay team of Akeem Bloomfield, Nathon Allen, Terry Thomas and Demish Gaye in a season's best 2:59.70 minutes.
The bronze medallists were Rushell Clayton in the women's 400m hurdles in a personal best 53.74 seconds; Shericka Jackson in the women's 400 metres in a person best 49.47 seconds; Danielle Williams in the women's 100 meters hurdles in 12.47 seconds, and the women's 4×400 meters relay team comprising Anastacia Le-Roy, Tiffany James, Stephenie Ann McPherson, and Shericka Jackson in a season's best 3:22.37 minutes.
It was a remarkable achievement when one considers that pre-race favorite in the women's 100 and 200 metres, reigning Olympic sprint double champion Elaine Thompson fared no better than fourth in the 100m final, and was forced to withdraw from the semi-finals of the 200m.
Also, Jamaica would have won the women's 4×100 meters relay without Thompson and young Briana Williams, the first and third-placed finishers at the Jamaica National Championships in the summer.
And Yohan Blake could only finish fourth in the men's 100 meters final, while there was no representative in the men's 200 metres final, or the men's 4×100 meters relay final.
And in the women's triple jump, Kimberly Williams was in third (bronze medal) position for much of the way before being relegated to fourth place.
So with a little bit of luck, Jamaica could easily have surpassed the best-ever medal haul.
So after the doom and gloom of two years ago, Jamaicans and indeed Caribbean nationals can look forward to the 2020 Tokyo Olympic Games with hope of the black, green and gold being proudly represented.
But even so, on his return from Doha a few days ago, MVP Track Club head coach Stephen Francis blasted the country's male sprinters, claiming that the cupboard is bare at present and those around appear unfocused, lacking proper guidance, and the tools to succeed. He said they should consider taking up scholarships because at least they would have something to fall back on because they are not going to make it as top flight pros.
REGGAE BOYZ
Meanwhile, the Reggae Boyz will look to tighten their grip on their group of the Concacaf Nations League when they face Aruba inside National Stadium in Kingston on Saturday evening.
The Theodore Whitmore-guided Reggae Boyz have so far easily dispatched Antigua and Barbuda and Guyana with 10 unanswered goals to lead the group with six points.
The team will head to Curacao on Sunday for the return game with Aruba next Tuesday. Winning the group would set Jamaica up beautifully for a spot in the final round of World Cup qualification, as well as securing a spot for the next Concacaf Gold Cup Tournament.
We wish the Boyz well.