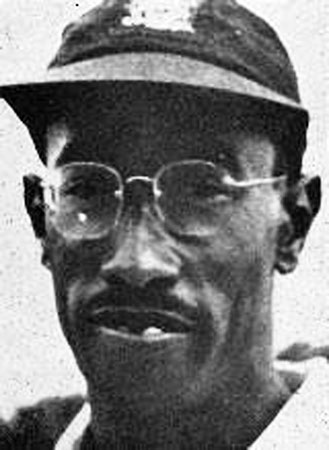 Alfred Alf Valentine
 By Howard Campbell
Cricket lovely Cricket,
At Lord's where I saw it;
Cricket lovely Cricket,
At Lord's where I saw it;
Yardley tried his best
But Goddard won the Test.
They gave the crowd plenty fun;
Second Test and West Indies won.
With those two little pals of mine
Ramadhin and Valentine.
The West Indies cricket team's historic win over England at Lord's in 1950 inspired Trinidadian calypsonian Lord Kitchener to write those memorable lines from Victory Calypso which not only summed up the mood at cricket's headquarters on June 29, but signaled the beginning of a Caribbean dynasty.
Leading the Windies victory were two young spin bowlers: 21-year-old Trinidadian off-spinner Sonny Ramadhin, and 20-year-old left-arm spinner Alfred Valentine from Jamaica.
Ramadhin captured 11 wickets for 152 runs in the match, while Valentine finished with seven for 127.
Their exploits sealed victory for the West Indies and leveled the series 1-1. The visitors won the series 3-1, their first in England.
Valentine, who died in Orlando, Florida in 2004, was named Wisden Cricketer of the Year in 1951 for a successful tour of England that saw him capture 33 wickets in the four Tests.
He played 36 Test matches for the West Indies, taking 139 wickets. His last match was against India in 1962.
While touring Australia in 1961, Valentine visited a 'care home' in Sydney and was so moved by the compassion shown to its young wards, he got involved in mentorship.
He migrated to the United States in 1978, eventually settling in Florida where he became a counselor to wayward youth. Indeed, he and his wife took care of many of them at their home, which he was still doing at the time of his death.
Alfred 'Alf Valentine' may have mesmerized many batsmen with his bowling, but he also captured hearts as a humanitarian.