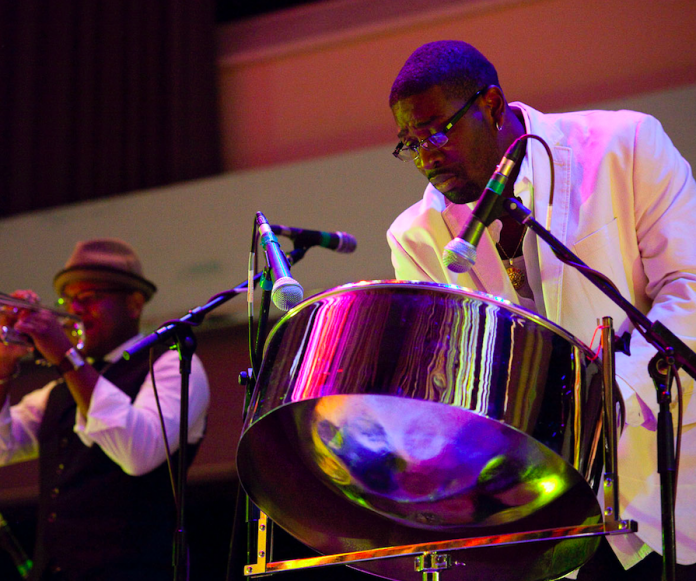 Leon Foster Thomas
The Musical Virtuoso
Trinidad and Tobago born Leon Foster Thomas, 35, is a unique force in modern jazz.
All About Jazz labeled him as "the next big thing on his instrument"; "his gift is an ability to bring forth any style with abandon, and play his steel pan as if it belonged in jazz all along…there are times when Leon Foster Thomas plays his steel pan like Gary Burton on vibes" (Examiner.com).
Winner of the World Steelband Music Festival's Soloist and Duet competitions in 2002 and 2004, Leon has worked with artists such as: Hugh Masekela, Melton Mustafa, Vince Mendoza, Richard Smallwood, Kevin Mahogany, Len "Boogsie" Sharpe, Dolly Parton, Slinger Francisco "The Mighty Sparrow", Cyril Neville, and many more.
Born in the southern Trinidadian city of San Fernando, he credits his parents, for his musical voice, and the local pan yards for his initial musical training. Leon received a scholarship to attend Miami-Dade's Florida Memorial University, graduating with a Bachelor of Music degree and was also recognized as the Visual and Performing Arts Most Outstanding Student. He later obtained his Master in Music degree from Florida International University.
His album, 'Brand New Mischief', was inspired by the birth of his daughter, received rave reviews from prominent publications such as All About Jazz, Jazz Weekly, Trinidad Guardian and Caribbean Beat to name a few.
His latest release, 'Metamorphosis' exemplifies his growth and maturation as a musician. He continues to perform at various festivals and concerts around the world, as well as conducting clinics at various educational institutions on Jazz, Caribbean music and the Steel Pan art form.
Apart from his playing, Leon is also recognized as a composer, arranger, and drummer. In 2003, he composed the piece, 'Call of the Amerindians: Rule of the Cacique', for Steel Pan soloist Shiron Cooper, which won her the top prize at the 26th Biennial Music Festival in Trinidad and Tobago.
In 2005 and 2007, Leon was drummer for both winning bands of Trinidad and Tobago's National Panorama: Phase II Pan Groove and Courts Sound Specialists of Laventille.
Leon has inspired youth locally and from Trinidad and Tobago to follow or even excel him in the world of music, especially the unique world of steelpan music. "I am all about T&T and that comes out naturally in my music."