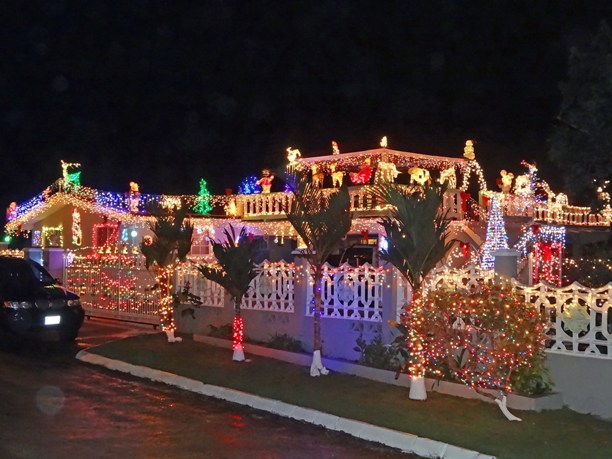 It is said that no matter what may be happening in the country, or the world, Jamaicans will always find a way to party or otherwise enjoy themselves. No wonder some people believe the real motto of Jamaica is "No problem, mon." 
That saying has rung true even in the middle of the COVID-19 pandemic when Jamaicans have kept themselves and the world entertained with a series of virtual parties on social media. The festive season of Christmas is no exception. Even with a national nightly curfew, along with a mask order and social-distancing protocols still in place, Jamaicans are not allowing the pandemic to prevent them from preparing to enjoy Christmas.
Over the past weekend, videos captured on social media show long lines of cars blocking roads, and hundreds of people in shopping lines, waiting to stock up on food and gifts for the holiday. As is customary, many Jamaicans are still planning the traditional Christmas dinner—actually more of a feast—and get-together with family and friends and attending church. But these gatherings will be smaller than usual this year, as most relatives and friends living in the diaspora will be unable to come home as a result of COVID-19 restrictions. 
However, other local traditions, like Grand Market—a Christmas Eve shopping event, which takes place into the wee hours of Christmas morning—and visits to the beach have been canceled this year. 
Prime Minister Andrew Holness has warned against the massive gatherings that usually take place on Grand Market night and many of the island's beaches and rivers, including popular attractions like Spanish Bridge River, Reggae Falls, and Hellshire Beach, have been closed to help control the spread of the virus.
Prime Minister Andrew Holness has urged Jamaican Americans and those living elsewhere in the diaspora to reconsider coming home this  Christmas if their travels are unnecessary. 
"I know, as is customary, you may want to come home for Christmas…I'm not saying don't come [but,] I'm saying if you don't need to travel to come for Christmas, then reconsider it," said Holness. He suggested that those who do come should remain in the assigned resilient corridor on Jamaica's north coast, and by so doing "help our tourism industry."
Unfortunately, for British Jamaicans, some will completely miss out on the holiday festivities on the island. On Monday, Jamaica joined several other countries in announcing a ban on air travel from the United Kingdom due to a new strain of the COVID-19 recently detected in that country. Last weekend, the British government imposed a tier-four lockdown, putting stop to all incoming and outgoing flights, household mixing, and virtually all outdoor activities for the Christmas season. 
The Jamaican government allowed one flight, with 301 passengers, to land on the island, but the other two flights that were scheduled to depart on Monday, and others planned for December, were canceled. British-Jamaicans will not get to enjoy Jamaica until January 4, 2021, when the ban is lifted.
For those who were lucky enough to arrive in Jamaica before the ban went into effect, they will be subject to quarantine for a 14-day period.
This ban is very disappointing for Jamaica's struggling tourism industry. Just last week, British Airways resumed flights out of England to Montego Bay, Jamaica's tourism capital. Tourism Minister Ed Bartlett publicly expressed joy and optimism for the industry with the resumption of the flight. Days later, this flight and others from England were banned.  
For those in the diaspora that are fortunate and determined to return home for the holidays, they will get to enjoy sorrel, Christmas cake, a Jamaican Christmas dinner, and that unique Jamaican ambiance at Christmas with the rest of the locals who are committed to being merry irrespective of the restrictions.