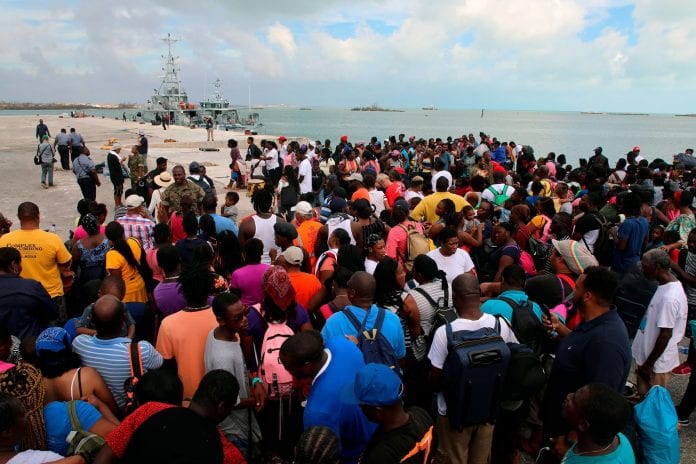 NASSAU, Bahamas, CMC – Bahamian authorities have dismissed reports that special arrangements had been made to allow nationals affected by the passage of Hurricane Dorian into the United States and Canada.
Speaking at a news conference, the spokesman for the National Emergency Management Agency (NEMA), Carl Smith, said NEMA and the Ministry of Foreign Affairs wanted to advise the public that there are no new arrangements that have been established to facilitate entry of Bahamians into the United States or Canada.
"Bahamians interested in traveling to the United States or Canada should ensure that they have all of the usual immigration documents required by those countries for entry. While most inquiries have come in respect to movement to the United States or Canada, NEMA can confirm that the Ministry of Foreign Affairs is not aware of any new arrangements for any other country," he told reporters.
He said NEMA was aware of an incident where the crew of the Balearia Caribbean Ferry demanded that passengers without a US visa disembark the vessel.
"We are aware of an incident reported on a large passenger vessel headed to the United States from Florida. NEMA has requested that the Ministry of Tourism and the Ministry of Foreign Affairs investigate this matter," Smith said.
Last week, US legislators, Marco Rubio and Rick Scott had called on President Donald Trump to waive some visa requirements for Bahamians following the hurricane so as to make it t easier for them to seek shelter with their families in the United States.
Scott, in a statement Monday called on the US Customs and Border Protection to work with the Bahamian government to clarify rules regarding visas in the Bahamas so confusion does not occur.
Meanwhile, the Ministry of Foreign Affairs said that persons wishing to renew or replace their passports, damaged or lost during the hurricane can do so by visiting the passport office in New Amsterdam.
It said that "fees to expedite the renewal or replacement of passports will be waived" for persons from Grand Bahamas and Abacos Islands, the places hardest hit after the category five hurricane tore into the archipelago on September 1, causing widespread damage estimated at billions of US dollars and so far being blamed for 44 deaths.
The Foreign Ministry said that first-time applicants will have to produce relevant documentation in order to procure an electronic regular passport.
Smith also announced that 3, 500 people have been evacuated to New Providence from Abaco and Grand Bahama, but only 860 persons have needed to be housed in approved shelters.