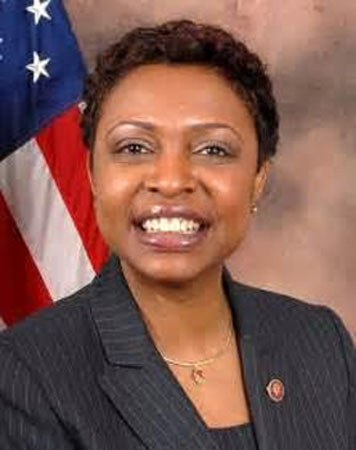 Congresswoman Yvette Clarke will co-chair the Caribbean Agri-Business Forum in Washington DC
The Washington-based Institute of Caribbean Studies (ICS) says United States Congressional Representatives Yvette D. Clarke and Stacey Plaskett will serve as co-chairs of ICS' 19th Annual Invest Caribbean Agri-Business Forum (ICAF) which opens on November 16.
ICS Jamaican-born president, Dr. Claire Nelson said the forum will focus on "Farm the Future: Resurgence and Resilience in the Agri-business Value Chain."
Disaster recovery in agribusiness sector
The conference theme will allow participants to explore challenges and opportunities emerging for growing trade and investment in the Caribbean agribusiness sector, and in light of recent devastation across the Caribbean region, will pay special attention to the issue of disaster recovery in the agribusiness sector," Nelson said.
Plaskett, Representative of the US Virgin Islands who serves on the House Agriculture Committee, said that ICAF 2017's focus on resilience is most welcomed.
"Given that agriculture producers in the US Virgin Islands will be able to secure assistance from the various USDA (United States Department of Agriculture) Farm Service Agency disaster programs, we hope we can use this opportunity to explore how lessons learned in the USVI re risk coverage for specialty crops, and repair of damage to agricultural and private forest land. We also hope this will be of assistance to other islands in the Caribbean region," she said.
Hurricanes have created more awareness
"Truly, these hurricanes have served to make us more aware of our common home, the Caribbean Sea and our shared environmental futures," she added.
Nelson said the Forum will kick off in the Rayburn House Office Building, and will begin with a focus on the Legislative Agenda affecting US Trade and Investment in the agribusiness value chain. She also said discussions will also address elements in the implementation of HR 4939 (Public Law 114-291), "which lays out a framework for shared work between the US and Caribbean on a variety of issues, including agriculture and small business and energy."
Daughter of Jamaican immigrants
Congresswoman Yvette Clarke, the daughter of Jamaican immigrants, who serves on both the US House of Representatives' Energy and Commerce and Small Business Committee, and co-chairs the nascent Congressional Caribbean Caucus, will serve not only as ICAF co-chair but also as co-chair of the Caribbean American Heritage Awards on Nov.17.  Clarke represents the predominantly Caribbean 9th Congressional District in Brooklyn, New York.
Nelson said the forum brings together a select group of US and Caribbean business persons, the Caribbean diplomatic corps, policy makers and financiers to exchange up-to-date information and discuss opportunities for delivering sustainable growth with job creation. "This is both an educational event and an important venue for developing business prospects," she said.
Invest Caribbean will be followed the next day by the 24th Annual Caribbean American Heritage (CARAH) Awards, also in Washington.
ICS instituted the CARAH Awards in 1994 "in order to highlight the contributions that Caribbean immigrants make to the USA," Nelson said.
For more on Congresswoman Yvette Clarke, visit the link: US President threat to Caribbean Community