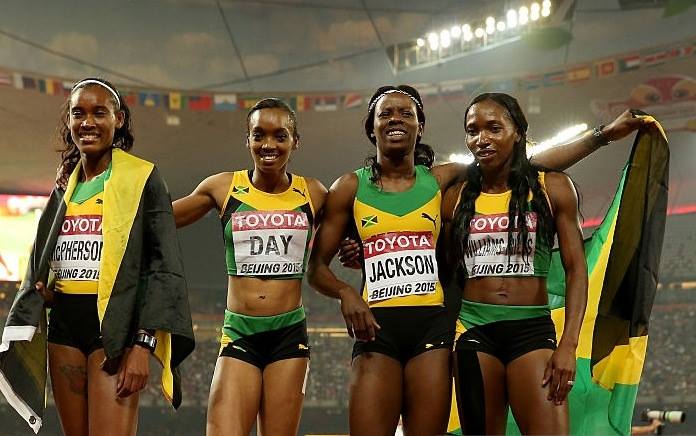 No words could describe the outstanding performance of Jamaican track and field athletes at the recently concluded IAAF World Championships in Beijing, China.
The superlative performances at premier international meets like the Worlds and the Olympics, especially in the sprints, has solidified Jamaica as the outstanding country of sprinters similar to Kenya and Ethiopia's reputation for long-distance runners.
Enough cannot be said about the feats of Usain Bolt and Shelly- Ann Fraser-Pryce, who are now living sprint legends. However, there is a crop of young Jamaicans who continue to maintain Jamaica's dominance. In women events, Elaine Thompson is poised to become a force to be reckond with in the 200 meters, as well as Shericka Jackson in the 400 meters and Danielle Williams in the 100 meters hurdles. These young promising athletes have given depth to the Jamaican team, enhancing the nation's potential in the exciting relays.
While Jamaicans continue to show their dominance in the sprints, there are signs they are making moves in longer distance races like the men's and women's 800 meters, the men's 5,000 meters, and even in field events. Jamaica gained a bronze medal in the men's shot putt finals, and advanced to the men's discus finals.
However, it's the sprints that Jamaica is likely to continue dominating for years. The sprint athletes have succeeded in enhancing the Jamaican brand, not unlike tourism and reggae music.
But, after the praises and elation at the athlete's recent performance quiets, what's next? Since the turn of the century, Jamaican athletes, most from humble origins, have been making their mark on world athletics. The earlier success of athletes like Veronica Campbell-Brown was an incentive to younger athletes to excel at international levels using the national inter-school championships, and the U.S. Penn Relays as their spring-board. The potential of these athletes have been harnessed and developed by brilliant coaches and athletic clubs in Jamaica.
With Jamaica's continued success in recent World Championships and Olympics, its sprinters now have a target on their backs. Other countries, will be relentless in trying to break Jamaica's dominance. There's no doubt Jamaica has the raw talent to continue producing top athletes for several years to maintains its dominance. However, this is going to take more development in the nation's track and field infrastructure. Training facilities needs to be expanded, more coaches found, and financial sources tapped to support athletes from low-income situations before and after they participate and excel in international meets. There's also the need to expand the potential of track and field athletics as the core of Jamaica's sports tourism, possibly through hosting more annual international meets.
One of the positives of the recent achievements of Jamaican athletes is the sport has provided another sector for the youth to earn a decent living. However, this earning potential is found mainly on the international circuit. It's feared it will only be a matter of time before foreign countries begin offering Jamaican athletes attractive fees to entice them to run for them. Already there are indications some oil-rich countries are doing this.
Jamaica cannot afford to produce potential world class athletes to lose them to other countries. Hopefully, nationally pride will prevail, but money has been known to override the strongest national pride.
Although it's good to honor athletes with monuments, parks and stadiums named after them, pragmatic consideration should be given to retaining the crop of emerging young Jamaican athletes. Unlike former years, with more talented athletes emerging, there's real possibility some gifted athletes will have difficulty making future Olympic and World Championship teams. Unable to represent Jamaica, these athletes could be tempted to represent other countries on the international circuit.
Consideration needs to be given, including from the Diaspora, on how to ensure the growing crop of Jamaican athletes maintain the dominance shown in recent years while benefiting financially, with enough incentives so they won't be competing in future international meets wearing the uniforms of other nations.