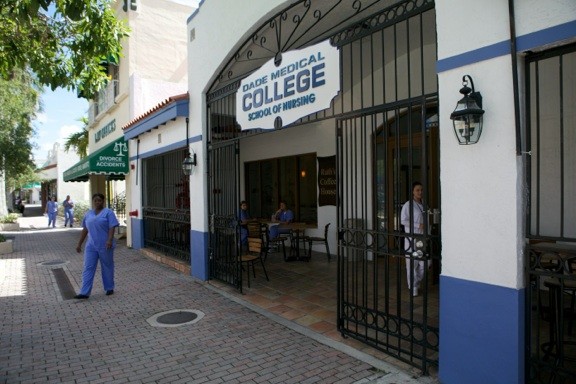 The South Florida nursing education community is still reeling from the sudden closing of popular for-profit medical institution, Dade Medical College. The school recently shut down all six of their campuses in South and Central Florida, without warning to students and employees. This follow a series of scandals for the school, from owner Ernesto Perez pleading guilty to campaign violations to record low nurse licensing exam passing rates.
But Dade Medical's downfall should be far from a surprise. Their story sheds light on the precarious position for local medical technical training. Ever since 2009, when the Florida's Department of Health proclaimed an upcoming shortage crisis in nurses, and the state legislature in response relaxed requirements to open training schools, the surge of more accessible, for-profit medical training programs have created a sub-par workforce. Based on the number of for-profit schools offering nursing courses, the graduation rate of nurses should be higher. But many of these schools in South Florida – often uncredited by the state – are offering substandard training, resulting in high failure rates in students attempting to obtain nursing licenses.
While most of the traditional nursing training institutions continue to graduate licensed nurses, the passing rates for graduates with an associate degree in nursing have declined from 86 percent in 2009 to 76 percent in 2014. However, the passing rates for several schools in South Florida are extremely lower, with four large schools, which included Dade Medical College, having an average pass rate of only 17 percent.
The demand for nurses and the potential for employment in private home and hospitals have motivated a high percentage of Caribbean-Americans to enter nursing schools. Some of these students were unable to graduate from high school, but went on to complete the required GED subjects to enter for-profit nursing schools with their less stringent admissions requirements.
However, the fees charged by these for-profit schools are usually higher than community colleges. The cost for an associate degree course for a physical therapist assistant at Dade Medical was $40,050, almost twice the amount at the region's community colleges. In addition, most students at these for-profit schools paid for their courses with student loans, incurring massive debt, while the more fortunate received government Pell Grants.
While Florida's Board of Nursing is authorized to close those schools that receive low passing rates in three successive years, this doesn't help students who spent thousands of dollars only to face almost certain failure.
Granted, for-college schools serve a purpose in meeting the demand for trained nurses. However, it's apparent that Florida's legislature needs to reevaluate the status of these schools. More of them should be accredited, with applicants subject to more thorough evaluation to ensure they have the potential to pass the required licensing exam.
More importantly, Florida's Board of Nursing should be required to consistently monitor the quality of the courses offered by the private schools. Several students who attended Dade-Medical complained about the poor quality of training offered by the college.
These colleges are earning large sums from students and tax payers. Dade-Medical was estimated to have made over $100 million from fees over the past three years.
These for-profit schools cannot be allowed to operate for the main purpose of making profits, while offering poor quality education. This policy must cease. Florida needs nurses, but they must be qualified to immediately embrace the role of providing quality care to patients.
Another possible solution to attaining this goal is for the state to increase funding to community colleges, enabling them to expand their nursing classes and accept more students at the associate nursing degree level.
Allowing private for-profit unaccredited medical schools to operate without being able to produce the qualified licensed nurses needed, essentially defeats the purpose of these schools.