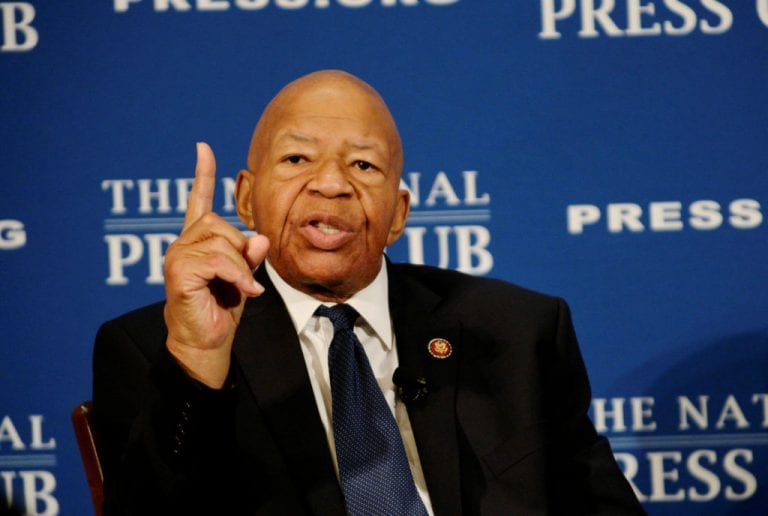 WASHINGTON, D.C. – Like the rest of America, The Caribbean American community on South Florida woke up on Thursday morning to the sad news of the passing of US Congressman Elijah Cummings, 68, earlier that morning.
Cummings, represented Maryland's 7th Congressional District since 1996, and up to the time of his death served as chairman of the House Oversight and Reform Committee, one of the committees currently involved in the impeachment inquiry of President Donald Trump.
According to Cummings' office the congressman had been ailing for some time and died from "complications concerning longstanding health challenges,"
Cummings wife, and Maryland Democratic Party chair, Dr. Maya Rockeymoore Cummings, said her husband worked until the day he died because he believed "our democracy was the highest and best expression of our collective humanity, and  that our nation's diversity was our promise, not our problem."
Tributes from Pelosi and Obama
Representative Cummings who was known for his powerful oratory and melodic delivery, earned the respect of House Speaker Nancy Pelosi. Paying tribute to him on his passing, Speaker Pelosi said, He was a leader of towering character and integrity. Whose stirring voice and steadfast values pushed the Congress and country to rise always to a higher purpose."
Former President Barack Obama tweeted, "Michelle and I are heartbroken over the passing of our friend Elijah Cummings. May his example inspire more Americans to pick up the baton and carry it forward in a manner worthy of his service."
Tributes from South Florida Caribbean American leaders
City of Lauderdale Lakes Mayor Hazelle Rogers calls Cummings passing. "An irreparable loss not only to the US Congress, but American politics generally. He sought a bi-partisan approach to solve the nation's problem and with his approach was much loved on both sides of the political divide. Elijah was a humble and dedicated giant in American politics and will be sorely missed."
Broward County's Vice-Mayor Dale Holness, said, "Congressman Cummings's passing is so sad, especially at this time when the country needs dedicated, courageous patriots, like he definitely was, to heal the yawning divide being experienced in the nation. He was respected by all in congress; a man of absolute integrity who stood for absolute integrity."
City of Miramar Mayor said, "Such a major, and sad loss. He was a great man."
Relationship with President Trump
Despite his health problems, as chairman of the House Oversight and Reform Committee Cummings oversaw a range of investigations into the Trump administration. In addition to the current impeachment enquiry, these included the treatment of migrants, especially children, at the southern border of the US.
Last August following Cummings fiery questioning of a Department of Home Security official related to the detention of immigrant children, he drew the ire of President Trump, who in a tweet referred to Baltimore, Cummings home city, as a "disgusting rat and rodent-infested mess" and infamously blamed Cummings for the "mess."
Trump's criticism prompted a strong backlash from the African American community in general, and the residents of Baltimore, in particular. This was testament to the love and high esteem in which Cummings was held as the Congressional representative of Maryland.
In response to Trump's trade, Cummings invited Trump to Baltimore, saying, "The President is welcome to go through the 7th Congressional District. He will see strong people who get up and go out to work on the early bus. He'll see people, he'll see organizations that have come to the inner city of Baltimore ….and did not go around criticizing, but said, 'How can we help?' And they have helped. I welcome the President. I would love to see him."
Trump Pays Tribute
Trump did not accept the invitation, and there are no indications he apologized to Cummings for his tirade against him and Baltimore. But on the passing of Cummings, Trump tweeted, "I got to see first hand the strength, passion and wisdom of this highly respected political leader. His work and voice on so many fronts will be very hard, if not impossible, to replace!"
Sherifa Dixon-Wright, Jamaican-American social worker in Baltimore tearfully told CNW, "Baltimore has developed socially and economically in leaps and bounds since Elijah has been in Congress. He was all Baltimore. He was so dedicated he came home from DC every night to the city he loved, even when not feeling well. This was a very unusual human being. He is gone too soon. How can we ever replace him?"
FIU political science student, Mikhail Burger said he heard the news of Cumming's passing just before he entered a tutorial on the role of the House Oversight and Reform Committee in Congress. "This is really weird. The congressman was my focus in this tutorial, and he had just died. Researching his life and work intensely in recent days, I found him a fearless black man of steadfast courage and integrity, a compassionate man who strived for the working class and fairness for all. He had perfect qualities for chairing the Oversight Committee. It's such a pity to lose his dedicated service."