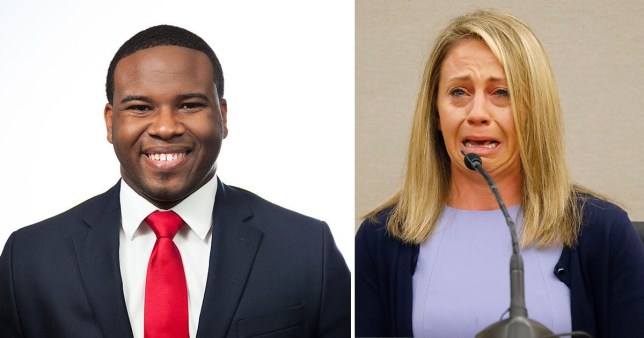 DALLAS, Texas – A day after former Dallas police officer Amber Guyger was found guilty of the murder of her black neighbor, Botham Jean, a jury sentenced her to 10 years in prison.
Amber Guyger, a white 31-year-old, could have faced up to 99 years in the 2018 slaying of Botham Jean, a 26-year-old St. Lucia native, church singer and accountant who was unarmed at the time of the shooting.
On the night of September 6, 2018, Guyger said she thought she was entering her own third-floor apartment that night when she saw her neighbor. She said she mistook Jean for a burglar and shot him, fearing for her life. Prosecutors argued that Jean posed no threat — he was sitting on a couch in his fourth-floor unit eating ice cream before Guyger walked in, they said. Jurors agreed and rejected Guyger's self-defense argument.
During the trial, prosecutors attempted to paint Guyger as racist, drawing on text messages in which she mocked her black colleagues and joked about the death of the Rev. Martin Luther King Jr.
The 12-member trial, which consisted of seven black people, five people of color, and four white people, rejected Guyger's self-defense argument.
After the verdict was given, Botham's younger brother, Brandt Jean, also a Christian, spoke directly to Guyger, saying that he forgave her, and even gave her a hug. "I love you as a person and I don't wish anything bad on you," Brandt Jean told Guyger from the stand.
Judge Tammy Kemp, who presided over the case, hugged each member of Jean's family after the trial ended. She then approached Guyger, handed her a Bible and embraced her.
Although Jean's family was seemingly elated that justice was served, many protestors say that the sentence was a slap in the face to Jean's family and to black residents, especially immigrants, living in the United States.
Guyger will have the possibility of parole after she has served five years in prison. Botham Jean would have celebrated his 28th birthday on September 29, 2019.