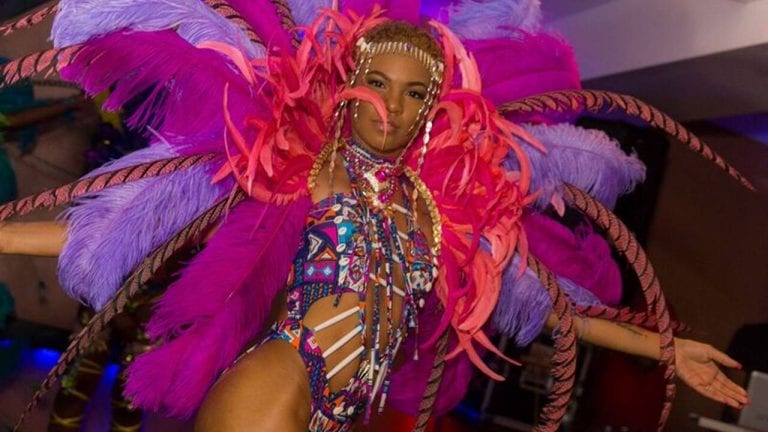 It's finally carnival weekend in Miami-Dade County and that means bacchanal time.
The 34th annual Miami Carnival will conclude in spectacular style this weekend with music, fashion and culture. On Friday night, it was all about steel-pan, as Panorama 2018 came to the Central Broward Regional Park in Lauderhill,  Florida on Friday, October 5th from 4-11 p.m.  Revelers enjoyed the sweet sounds of world-renowned steel bands as they competed for the crown of Panorama Champion 2018.
On Saturday morning, October 6th, get ready for J'Ouvert with 25 participating mas bands that will bring the mud, paint, powder and pure bacchanal from 7 a.m. until 3 p.m.
Grand culmination
And of course, on Sunday, October 7th, the annual Caribbean Carnival season culminates with a cultural spectacle from 11 a.m. -11p.m. at the Miami-Dade County Fairgrounds, 10901 SW 24th St, Miami, FL 33165. Over 17 masquerade bands will compete for prizes, pageantry and bragging rights
Concert goers will be able to catch live performances from Kes The Band, Patrice Roberts, Shurwayne Winchester, Teddyson John, Dil E Nadan, King Bubba, Peter Ram, Stiffy, Ricardo Drue, Trinidad & Tobago Prison Band, P Goodz, Prime Ethic, Soca Empress J, Scrappy, Rudy Live, Mr. Pearly, Julien Believe, Kiprich, Tara Lynne, Sweet Shells and Imma Haitian 257 while DJ Chosen, DJ Spice, DJ Dorenzo, Survivor International, DJ Stichiz and DJ The Party General will drop the latest beats to keep fans rocking.
Rapper Flo Rida is set to make a special appearance.
For tickets and more information see miamibrowardcarnival.com.