For the second day in a row, thousands of disgruntled citizens took the streets of Suriname's capital Paramaribo on Friday, urging the Bouterse administration to reverse the recent fuel price.  Last week, gasoline became US $0.08 more expensive per liter and diesel increased by US $0.03 per liter
30-year-old Maisha Neus initiated a protest demonstration that included some 1,500 people last Monday at Independence Square which is in the opposite direction of the Presidential Palace. The protest denounced recent measures taken by the government, including price hikes for fuel, water and electricity.
The protests on Thursday and Friday were led by Trade Unions, the protest had an audience of more than 10,000 people. The crowd was filled with mixed emotions as some people argued that President Desi Bouterse should resign. According to Caribbean News Now,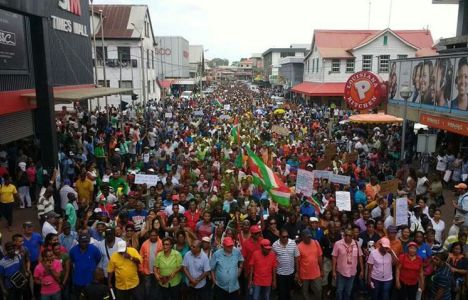 Union leader Robby Berenstein noted that the objective is not to overthrow the government, but rather to press the administration to change its policies.
"What has been done since the Bouterse-led administration came into power in 2010 and again in 2015 has resulted in extreme hardship for the people" said the union leader.
Records show that import revenues have fallen drastically since 2015 due to the steady decline on the international market of the prices in Suriname's most important commodities: gold and oil.  According to the government, the country's income since 2015 fell by 70 percent in comparison to 2014.
In addition, the ministry of education announced that the principle of no work, no pay will be applied to teacher who participate in the demonstrations.  Minister of education, Robert Peneux, argued that this month teachers received a salary increase of 500 Surinamese dollars (US $65), hance the have no reason to protest.