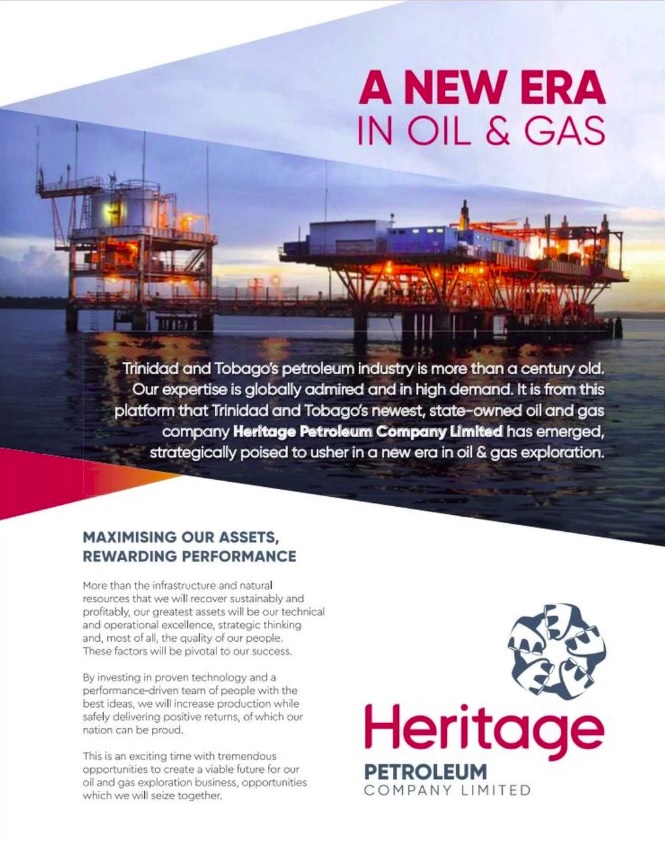 Last Saturday, the government of Trinidad and Tobago  said two new companies will replace the now defunct state run oil refinery Petrotrin. The companies are: Heritage Petroleum Company and Paria Fuel Trading Company.
Heritage Petroleum is the new exploration company, while Paria Fuel Trading will handle fuel logistics and the energy trading aspect of the business.
Media ads out
Two advertisements concerning the new companies appeared in the local media last Saturday.
"More than the infrastructure and natural resources, we will recover sustainably and profitably. Our greatest assets will be our technical and operational excellence, strategic thinking, and most of all, the quality of our people. These factors will be pivotal to our success," said the advertisement for the Heritage Company.
The description of the Paria Fuel Trading Company said: "As a state-owned company with access to strategic linkages and high-level market intelligence, our significant infrastructure positions us to offer safe, responsible and efficient terminal operations which will facilitate the reliable transportation and trading of petroleum products." It was also stated that the company will ensure fuel security for automotive, aviation and marine applications in Trinidad and Tobago.
Petrotrin prevented from terminating employees
The launch of the two company's came two days after Justice of Appeal Charmaine Pemberton granted a stay of an Industrial Court injunction against Petrotrin which prevented it from terminating employees and issuing voluntary separation letters.
Last month, Petrotrin announced the closure of its operations on November 30.
Energy Minister Franklin Khan then stated that Petrotrin had the ability   to "bankrupt" the country, and described the company as moving towards a "black hole."