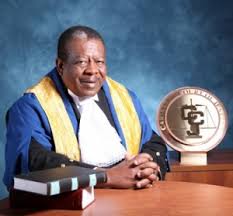 Sir Dennis Byron to step down after seven years at the helm
The Trinidad-based Caribbean Court of Justice (CCJ) says it is seeking a replacement for its President, Sir Dennis Byron, who is set to leave office next year after heading the Court for the past seven years.
In a statement, the CCJ, which was established in 2001 to replace the London-based Privy Council as the region's final court, said that the tenure of President is for a non-renewable term of seven years.
The CCJ also acts as an international tribunal interpreting the Revised Treaty of Chaguaramas that governs the 15-member regional integration movement.
Sir Dennis, who replaced Trinidadian jurist Michael De la Bastide in 2011, said "it has been an honor to serve the region as the President of the CCJ.  I am particularly proud of what has been accomplished by the Judges and the rest of the Court's team during my tenure.
" It is now time for me to take on other challenges but I will look back at the 6 years I have spent at the Court, with pride and with a great deal of fondness," said Sir Dennis, who  has been a jurist for over 50 years and was first appointed as a judge in 1982.
Sir Dennis was appointed by Caribbean Community (CARICOM) leaders on the recommendation of the Regional Judicial and Legal Services Commission. (RJLSC).
"The RJLSC is similarly responsible for the recruitment of the next President.  Applications are invited from those persons who have been a judge for over 5 years or have practiced, or taught, law for at least 15 years.
"Among the criteria that will be assessed by the RJLSC include: "high moral character, intellectual and analytical ability, sound judgment, integrity and understanding of people and society,' the CCJ said.