Andrew Smalling lauds the efforts by Jamaica's Constabulary Force after a presentation held in South Florida that outlined policies and concerns in combating crime in Jamaica.
CNWEEKLYNEWS.COM
As fears heighten among the Jamaican diaspora regarding crime in the home country, Jamaica Constabulary Force (JCF) Commissioner of Police Antony Anderson and Assistant Commissioner Kevin Blake took the trek to South Florida to address their concerns, rolling out new proposals and discussing policies that are already in place. The candidate for Broward Sheriff lauds Jamaica's crime-fighting efforts after viewing the presentation.
The presentation, which took place last Friday in the Lauderhill Commission Chambers to a capacity audience, seemed to have won over attendees, including Andrew Smalling, a law enforcement professional and candidate for Broward Sheriff.
Read More: Andrew Smalling For Broward Sheriff
CNW spoke to Smalling to gage his assessment of the policies Commissioner Anderson set forth in the presentation.
"As a former military officer myself, I was impressed by [Commissioner Anderson's] affable manner, given the fact that he served 34 years as a major general in the Jamaica Defense Force," Smalling said.
Smalling, who has a vested interest in Jamaica's crime-fighting efforts, served as a member of the Jamaica Diaspora delegation in 2001 when he met and worked with the assistant commissioner to that end. "ACP Blake and I worked on installing the first School Resource Officer program in the history of the JCF," he said. At that time, Blake was a JCF sergeant and Smalling was a District Chief for the Broward Sheriff's Office.
While Commissioner Anderson is aware that Jamaicans in the diaspora have real concerns about crime in the homeland, he emphasized that the murder rate is not a new phenomenon, using a line graph presentation to illustrate this fact. However, he came armed with solutions in an attempt to assuage their fears.
"The commissioner seems to be employing a new and innovative approach to tackling the root causes of crime and disorder. His point of "violence begetting violence" and his plans to break this vicious cycle was well-received. In fact, having been in the field for so many years, I totally understand this cycle of violence which permeates many of our inner-city communities right here in Broward," Smalling told CNW.
Read More: Jamaica's Commissioner of Police Addresses SOE Debate at Community Forum in Lauderhill
Commissioner Anderson used an analogy of being cut off in traffic by an aggressive driver, only to find out that the driver is your favorite school teacher, to explain how we can control our anger depending on who the target of that anger is. He emphasized that whether you're an officer or a citizen, self-control, or the lack thereof, is a variable that is too often the genesis of a violent act.
Stakeholder engagement 
It is a known fact that the success of any modern law enforcement agency depends largely on the relationship of the officers to the people they police. Since arriving in South Florida, Commissioner Anderson said he met with a number of police chiefs, including Smalling's successor, Lauderhill's Chief Constance Stanley, to discuss ideas he could implement in Jamaica.
"It was clear from his presentation that he had already begun the process of engagement with measures such as an emphasis on community policing, increased traffic enforcement, gang task forces, and police station renovations," Smalling said, adding that he believed this was an excellent path to success.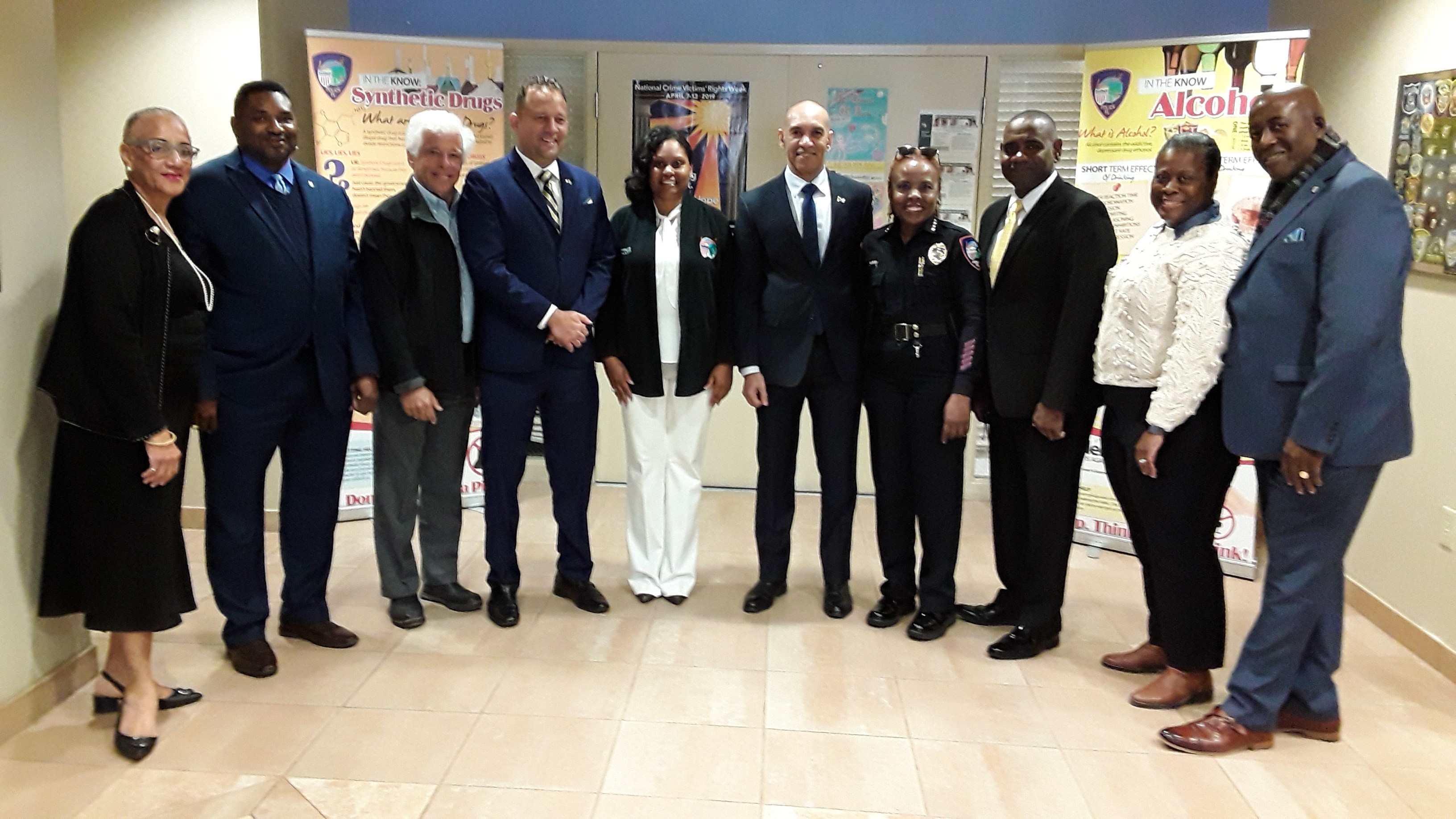 Commissioner Anderson's work with the judicial authorities in establishing databases that could more easily track persons in the country was the centerpiece of gathering intelligence on gang members who had become more "mobile" in carrying out their crimes and violence.
In speaking about the police station renovations which are being done throughout the island, Anderson expressed that he not only wanted to create a welcoming place for residents but also a comfortable work environment for his constables.
"Although at times we may mistakenly disregard the men and women of law enforcement as stakeholders in the policing process, the commissioner gave indications that he understood this nuance. Not to be taken lightly, however, he was fully on board to prosecute those officers with corrupt intentions," Smalling asserted.
Technology
The commissioner appeared fully briefed on implementing current technology to include body-worn cameras, less-than-lethal weapons such as the tasers, and mobile report writing systems which will advance the JCF into a premier law enforcement agency. There are also ideas proposed to update the current patrol uniforms to make them more capable of accommodating the new technology.
Read More: Violence In Jamaican Schools Putting Both Teachers & Students At Risk
Commissioner Anderson has been on the job for close to two years but has been serving Jamaica in the capacity of a security expert for over 35 years. Anderson said he wants a better country for his soon-to-be-born granddaughter, seeming to indicate that his heart is in the right place on behalf of all Jamaicans.
Smalling ended on an optimistic note, "I am hopeful that he will get the support he needs from the elected officials and governmental entities with security portfolios so there can be a better Jamaica, not only for his granddaughter but for all our children and grandchildren."