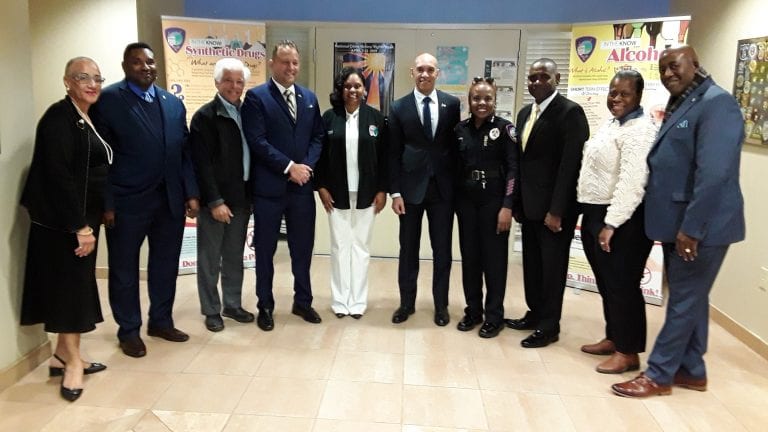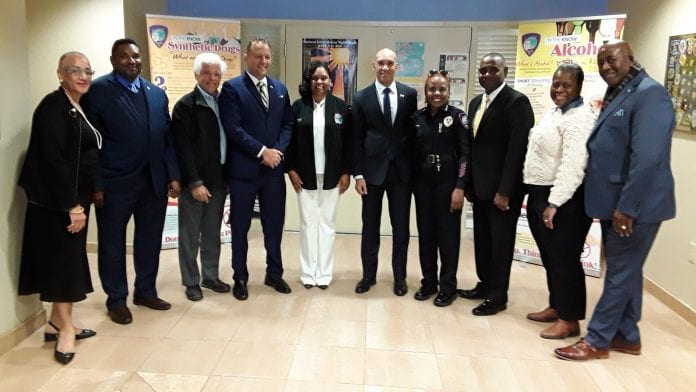 LAUDERHILL, Florida – On February 28, the Consul General of Jamaica, the Honorable R. Oliver Mair, along with Host Commissioner Denise D. Grant, hosted a community forum at the Lauderhill City Hall to discuss measures that can be implemented to ensure safer communities.
While residents of Lauderhill, where a significant number of Caribbean-Americans reside, have shown their concern for their safety locally, they are also concerned about the safety of residents in Jamaica. Many residents of Lauderhill still have family members residing in Jamaica, or plan to return to their home country soon. Thus, the concerns of crime and violence in Jamaica, not only affects those living in Jamaica but also members of the diaspora.
At the community forum, Commissioner of Police of the Jamaica Constabulary Force (JCF), Major General Antony Anderson, was invited to make a presentation which addressed the state of crime in the county.
Commissioner Anderson said that among the major crime concerns that the JCF has are the persistently high levels of violent crimes, pervasive gang culture, high levels of public disorder and the evolution in the nature of crime and criminals.
To combat these and other issues, the government of Jamaica has implemented several State of Emergencies (SOE) over the last three years, sparking debate across the diaspora about the effectiveness of this measure. Currently, there are four SOEs in place, covering six parishes (almost half of the island): East Kingston, St Andrew South, Clarendon and St Catherine;and St James, Westmoreland and Hanover.
"What an SOE is is a violence-reduction methodology", said Commissioner Anderson to the audience made of largely Jamaican-Americans.
"It rapidly reduces the level of crime in a particular space over a period of time. When we implement an SOE, it allows for the JCF to be better at the other types of policing. It allows our detectives the breathing room to build better cases, it creates a zone of peace that we can do community interventions, among other things."
In addressing the most recent SOE implemented in East Kingston, the Commissioner explained, "Earlier this year, we had a problem in East Kingston. In the first 25 days of the year, we had 12 homicides in East Kingston. We implemented this [SOE] measure on January 25 and we have not had one homicide since."
In St. James, the parish that currently has the longest-running SOE in Jamaica, there has been a major concern about whether or not the SOE has been working, as crimes have seemingly been on the rise in the parish over the last three years. But Anderson has insisted that crime in St. James is on a drastic decline.
"Let's compare three years: 2017, 2018 and 2019. In 2017, there was no SOE in St. James and we had 335 homicides in St. James. In 2018, we started a year-long SOE which resulted in 102 homicides – a 70% reduction. In 2019, we only had it for a part of the year and it went up to about 150.
"This year, so far, we are running the lowest level of homicides in St. James in 20 years", Anderson announced as he offered the statistics.
Turning his attention locally, the Commissioner said that he would be making more of an effort to strengthen communication with the JCF and the local sheriffs' offices. "We recently had some discussions at Broward Sheriff's Office about what we can do to strengthen our communication", he said.
"We can't have this large of a diaspora of Jamaicans and not have those sort of ties with the police force here. A number of diaspora members are even in our local JCF and so those linkages lend itself to better communication."
Commissioner Anderson was the presented the key to the city to by Vice Mayor of Lauderhill, Howard Berger.