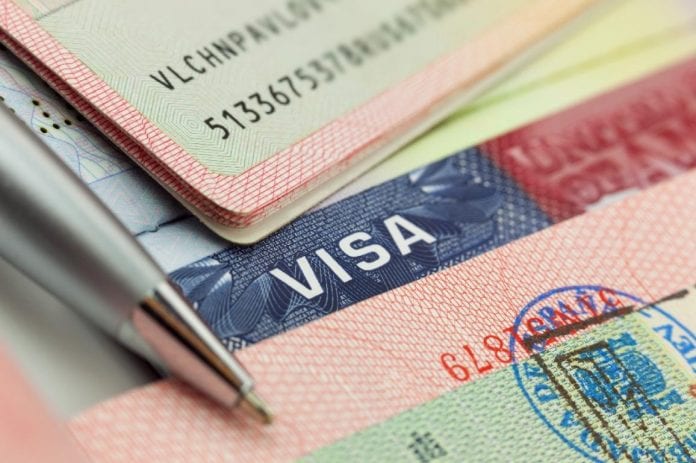 KINGSTON, Jamaica – If you are a Jamaica that is currently stuck in the United States with an expired or almost expired visa due to COVID-19 travel restrictions, it is possible to get a visa extension.
Hundreds of Jamaicans were left stranded in the United States and other countries after Jamaica closed its borders to incoming passenger flights on March 24. While Prime Minister Andrew Holness said that the country is considering to possibility of re-entry, there is no timeline yet as to when widescale re-entry will be allowed in the island. This means that scores of Jamaicans will be unable to go home anytime soon.
Jamaica's minister of foreign affairs, Kamina Johnson-Smith has urged all Jamaicans in the US, Canada, UK or Europe whose visa might expire to apply for an extension as there is no blanket waiver.
Are you a Jamaican in the US, Canada, UK or Europe whose visa might expire due to Covid19 travel restrictions?

Then visit these websites to apply for extensions or adjustments.

See flyer for more information #Covid19 #ContainCovid19 #VisaExtension#TravelRestrictions pic.twitter.com/KA8uswtF24

— Ministry of Foreign Affairs and Foreign Trade GOJ (@mfaftja) April 10, 2020
Additionally, Jamaica's Ambassador to the United States Audrey Marks says the embassy is working to assist"out-of-status" Jamaicans stuck in the U.S.
"We're actually asking persons who are in that situation to contact us at the embassy and we're responding by e-mail to explain what they can do if you are potentially out of status", Marks said at a recent digital town hall.
"The USCIS and the embassy in Jamaica, they have assured us that they are prepared to work with persons because clearly they know that you're not able to travel at this time."
Marks did, however, warn that Jamaicans must be able to prove that they made plans to leave the United States before the travel restriction to avoid cancellation of their visa.
"It's important that you show that you had made arrangements to leave by a certain time if your visa would have been up during this period, and if you're in other situations where you need to apply for extension you're encouraged to go ahead and still apply online. So we have a whole set of information to share for persons so that they know what they can do for their particular situation, whether they're visitors or students or workers," said Marks.
According to the USCIS' website, discretion is applied in the event of "natural catastrophes and other extreme situations", which sometimes affect the processing of USCIS application, petition, or immigration request.
It said when applying for an extension or change of status due to a special situation that prevented a planned and timely departure, "we may take into consideration how the special situation prevented your departure. If you do not apply for the extension or change of status before your authorised period of admission expires, we may excuse the delay if it was due to extraordinary circumstances beyond your control".
Marks said that it is critical that Jamaicans, who are out of status, or will soon be out of status, "send a note to the embassy so we can respond to you".
The ministry of foreign affairs has advised for all persons with queries to contact the Embassy or Consulate if you need help.
WHERE TO APPLY FOr VISA EXTENSIONS:
United States – https://www.uscis.gov/visit-united-states/extend-your-stay
Canada – https://www.canada.ca/en/immigration-refugees-citizenship/services/visit-canada/extend-stay/apply.html
United Kingdom – https://www.gov.uk/guidance/coronavirus-covid-19-advice-for-uk-visa-applicants-and-temporary-uk-residents
European Union – https://www.schengenvisainfo.com/news/coronavirus-what-to-do-if-you-get-stuck-in-the-eu/
Are you a Jamaican in the US,Canada, UK or Europe whose #visa might expire because of covid19 travel restrictions? Please visit these websites to apply for an extension as there is no blanket waiver. Please also contact your Embassy or Consulate if you need help. #Covid19Jamaica pic.twitter.com/iXXETC0pIJ

— Hon. Kamina J Smith (@kaminajsmith) April 10, 2020