Singer Richie Stephens and musician/producer Steven 'Lenky' Marsden were honored at the ASCAP Music Awards in London on October 16.
Stephens walked away with two awards: Song of The Year and Top Digital Song, while Marsden earned a writer's award for Luv, a song by Tory Lanez and Let Me Love You by DJ Snake and Canadian pop star Justin Bieber.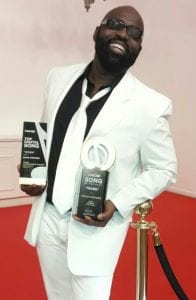 Richie Stephens was recognized for his Sail Away rhythm, which he produced in 1998. The beat was sampled by Rihanna and Drake for their international hit song, Work.
Once signed to Motown Records
The 50-year-old Stephens was once signed to Motown Records and is known for a number of dancehall hits including Fight Back (with Garnet Silk) and Maniac (with Bounty Killer). He had a big production 19 years ago with the album Sail Away which yielded several hit songs in Jamaica. This is his third ASCAP award for 2017.
In May, Paul Williams, president of ASCAP, presented Stephens with a songwriter's award for Work during the 34th annual ASCAP Pop Music Awards in Los Angeles.
Biggest hit of 2016
Work was arguably the biggest hit song of 2016. It was co-produced by Jamaica-born, Canada-based Matthew Samuels.
Marsden has been one of Jamaica's top musicians/producers for over 20 years. His biggest success came with the Diwali rhythm, also released in 1998. It drove several massive hits including Sean Paul's Get Busy and No Letting Go by Wayne Wonder.