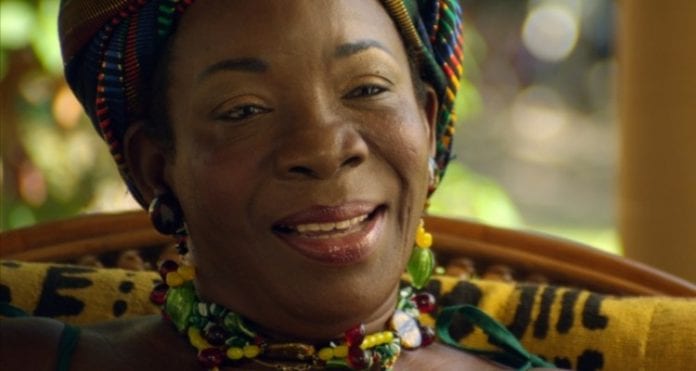 From various reports the 37th International Reggae and World Music Awards (IRAWMA) held on May 11, which honored the 38th anniversary of the death of Bob Marley, was a big success. Fittingly, the guest of honor at the event, which was held at the Jamaica Pegasus Hotel in New Kingston was Rita Marley – Bob's widow who sat up front of the audience with Jamaica's Culture minister Olivia "Babsy" Grange.
Formally greeting Marley in her opening remarks, the minister told Marley, "It's good to see your face in the place."
A highlight of the show was the performance of Top One Frisson, an entertainer from the Congo.  The entertainer deliberately placed himself in front of Rita Marley paying the show and Marley tribute. After the show he told the Jamaican Gleaner " "I am the first artiste from the Congo to perform at the IRAWMAs in Jamaica and the first to perform in front of Rita Marley. This is a memorable night, it is a dream come true."  
As for the awards, the big winner of the night was new artist sensation Koffee who won three awards –  Best Female Vocalist, Best New Entertainer, and Best Teen Entertainer.
Chronixx received two awards — Most Cultural/Educational Entertainer and Best Male Vocalist. He was a no-show, but his awards were accepted by a representative from the Roots Band.
Popcaan, who also did not attend, won the Bob Marley Award for Entertainer of The Year.
Spice won the award for Best Female Dancehall artiste.  
The IRAWMA Special Award for Reggae Dancehall Icon went to Bounty Killer. While accepting his plaque, he told the audience: "Support the IRAWMA, it's been around for years. Yuh haffi mek dis ting work outta Jamaica for di next few years."
Capelton received a Special Award for Reggae Culture Legend.
Other awardees included Beenie Man — Best Caribbean Entertainer; Notnice — Record Producer of The Year; Reggae Sumfest — Concert of The Year; Stone Love — Best Sound System/DJ; Dean Fraser — Best Instrumentalist; Cherry Natural — Best Poet/ Spoken Word Entertainer.
Other winners included Winston "Wee Pow" Powell, Joe Bogdanovich, Freddie McGregor,  Top One Frisson, Mutabaruka, Boris Gardener, Tony Rebel, Minister Grange, Dr Dennis Howard, Norma Brown-Bell, Balfour Henry, and Winford Williams
The IRAWMA was established in 1982 by Ephraim Martin to acknowledge and honor the accomplishments and contributions of reggae and world music artistes