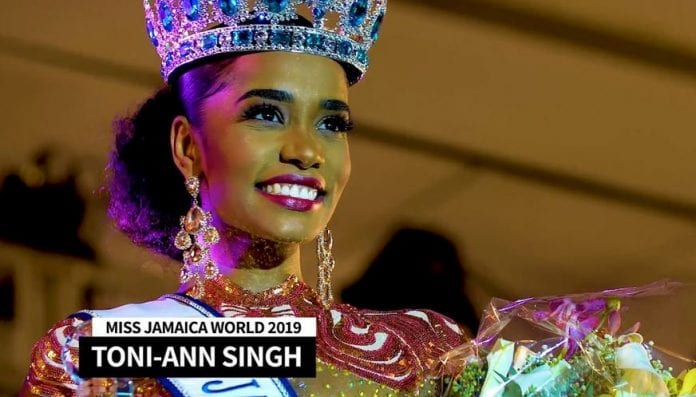 KINGSTON, Jamaica – Toni-Ann Singh, 23, a recent graduate of Florida State University was crowned Miss Jamaica World 2019 last Saturday at the Jamaica Pegasus Hotel from a field of 16 contestants.
A former contestant in the Florida Caribbean Association pageant Sing was encouraged to enter the Miss Jamaica World pageant by a judge at the former pageant, Miss Jamaica World 2005 Terri-Karelle Reid.
Born in Morant Bay, St. Thomas, and migrating to the United States 14 years ago, Singh who wants to become a medical doctor and is a talented singer and musician also won the top awards for talent, personality and the most photogenic contestant. Roselle McKinley placed second to Singh and Alanna Wanliss third.
Toni-Ann Singh will now represent Jamaica in Miss World 2019 at at the ExCeL London in London, England, U.K. on December 14, 2019. She is the 58th woman to represent Jamaica in the oldest running international beauty pageant created by the late Eric Morley in the United Kingdom in 1951.
Jamaica has excelled participating in the Miss World pageant with Carol Joan Crawford, Cindy Breakspear and Lisa Hanna each walking away with the coveted crown in 1962, 1976 and 1993 respectively.
The newly crowned Miss Jamaica World studied psychology and women studies at FSU and took a year off before embarking on studies at medical school.
Saturday's coronation took place before a capacity audience and was held under the theme, 'Jamaica Jamboree', in tribute to Aston Cooke, co-franchisee of the Miss Jamaica World pageant who died in February this year.
Entertainment was provided by actor/comedian Christopher "Johnny" Daley, and singer Dimaro McDowell who performed a medley of reggae and rocksteady songs.