Christmas is jus a few weeks away, and many families will be hosting some sort of dinner party or get together. This year, spice up your beverages menu with these deliciously inspired Caribbean fruit drink recipes.
The Sour Punch: Trini Tamarind Juice
Both, deliciously tart and sweet, this non-alcohol sweet drink from Trinidadian food blogger Chris De La Rosa still packs a punch, thanks to a touch of Angostura bitters.
Ingredients:
2 cups tamarind pulp (prepacked or fresh)
6-8 cups water
1/2 cup sugar (add more to your liking)
1 teaspoon Mixed Essence (or vanilla extract)
3 drops Angostura Bitters
Slices of lime
Directions:
1. Boil about half the water called for in the recipe and pour it over the tamarind pulp in a large
bowl. While still hot, break it up with a large spoon.
2. When the water cools, use hands to break the pulp apart until it's relatively smooth. Then strain
liquids a few times until smooth.
3. Add the rest of the water and other ingredients, stir well and chill or serve with a couple cubes
of ice. Serve with a slice of lime or lemon.
Recipe from caribbeanpot.com
The Health Kick: Bajan Lime Ginger Kiss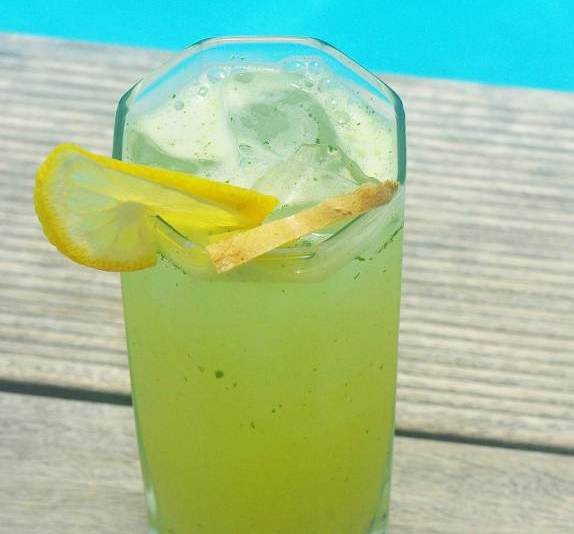 Enjoy this refreshing punch guilt-free by popular Bajan vegan blogger Taymer Mason. Healthy sugar
substitutes make this sweet treat an effortless addition.
Ingredients:
2 limes juiced
1 cup ice
1 cup water
5 mint leaves
1 tbsp. agave nectar
1 small pack of stevia
2×2 inch of fresh ginger
Directions:
1. Blend well in a blender and serve immediately. Makes one serving.
Recipe from caribbeanvegan.com
The Secret sweet: Guyanese Green Mango Drink
For Caribbean foodies, green mango may (literally) pale in comparison to its riper cousin. Jehan Peters
took Guyana's love of the unripe fruit for this sweet surprise.
Ingredients:
3 cups green mango peel and diced, about 1 large mango (discard the seed)
4 cups water
Juice of 2 limes
1 recipe simple syrup (1 cup sugar and 1 cup water)
Directions:
1. To make the simple syrup:  Place ingredients in a small pot and heat until sugar has dissolved.
Remove from heat and set aside to cool.
2. Place diced mango and water in a blender and puree.  Strain juice to separate the liquid from
the pulp.  Stir the pulp with a spoon until all of the liquid is removed.
3. Add the simple syrup and lime juice and stir to combine. Place in a refrigerator until cold, then
serve.
Recipe from jehancancook.com
The Boozer: Jamaican Soursop Drink
Condensed milk, creamy pulp from soursop, and just a touch of Jamaican rum make this drink from
Jamaican food bloggers Fay and Angela DeLeon extra decadent.
Ingredients:
1 ripe Soursop
1 can Sweetened Condensed Milk
1 tsp grated Nutmeg
2 Tbsp fresh Lime Juice
1 tablespoon Vanilla extract
5 cups of Water
White Rum (amount your choice)
Directions:
1. Peel the soursop by hand; put flesh in a large mixing bowl and remove all the seeds. Blend fruit with 3
cups of water.
2. Pour puree into mixing bowl and add 2 to 3 more cups of water. Use a strainer to remove fibers.
3. Add sweetened condensed milk, nutmeg, lime juice, run and vanilla and stir to blend. Serve chilled
with a dash of nutmeg.
Recipe from cooklikeajamaican.com