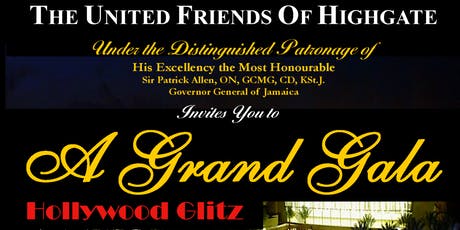 PEMBROKE PINES, Florida – The United Friends of Highgate (UFOH) will hold its annual grand gala on November 30 at the George F. Dodge City Center in Pembroke Pines, Florida. Held under the patronage of Jamaica's Governor-General Sir Patrick Allen, the grand evening of entertainment, featuring Jamaica's premier comedian Oliver Samuels, is held to benefit needy children and the indigent of the town of Highgate in St. Mary, Jamaica and the homeless of South Florida.
The gala which begins at 6:30 p.m. will also feature entertainment by the Ballet Elite Dance Studio, and music for dancing by Willie Stewart and Friends. The master of ceremonies for the evening will be Judge Norman Hemmings.
The United Friends of Highgate (UFOH) is organized with two chapters: the Florida or founding chapter and the Ground Zero or local chapter in Highgate, Jamaica. While the Florida chapter, headed by Lorrimer Burford as its president, is responsible for the planning and development of the organization, the Ground Zero chapter is primarily responsible for implementing projects and providing information concerning the needs of Highgate.
Burford said, the overall goal of the two chapters is "contributing to the economic, physical, educational, environmental, cultural and social development of Highgate thus making the community a safe, healthy and enjoyable place to work, live and play."
The micro plan of the organization is to provide healthcare, education and social assistance to the youth, sick and infirmed and shelter to the homeless of Highgate and other areas in St. Marty. The macro plan is to help community leaders in Highgate, including: the MP, mayor, deputy Mayor, educators, clergy, police, parish council, and Social Development Commission in a broader development strategy towards community economic, educational and social development.
Locally, in South Florida, UFOH partner with a church, Daybreak Assembly, to help the homeless with food, clothing and information regarding access to available resources.  It supports the Muscular Dystrophy Association by hosting an annual Domino Tournament with 100 percent of the proceeds donated to the organization. It actively supports local churches, past student associations and other charitable organizations through donations and other activities.  It also plans to expand support to other charitable organizations, especially those serving the indigent, youth, and homeless.
From the proceeds of past grand galas and other fund-raising activities, UFOH over its 12-years of service has built a house for a senior citizen of Highgate who had no pension or place to live. It also offered many scholarships; provided gift food-vouchers at Christmas; provided beds and fed inmates at the Pringles Home infirmary in St. Mary; and last year shipped over US$5,000 of furniture and medical equipment the Port Maria hospital in St. Mary.