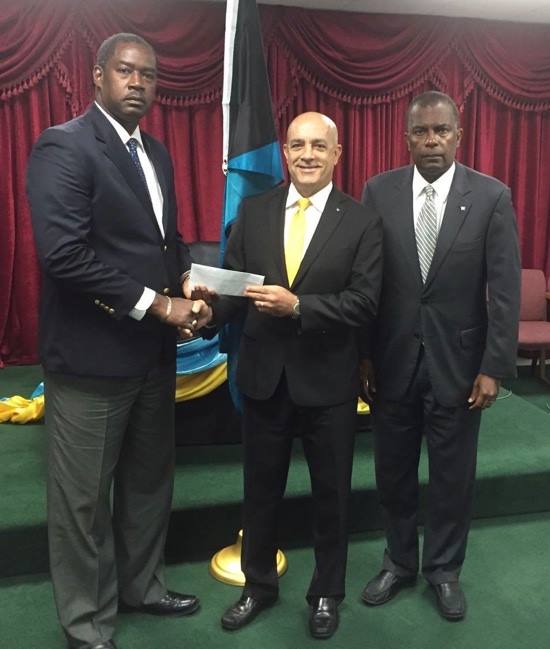 Diaspora donates $15,000 towards nation's Hurricane Fund
To support current recovery efforts in The Bahamas, members of the Bahamian and Caribbean Diaspora in South Florida have donated $15,000 towards the nation's Hurricane Joaquin Relief Fund.
On behalf of the community. Miami-based Consul General for The Bahamas Ricardo Treco traveled to Nassau recently to present the check to Director of the National Emergency Management Agency (NEMA) Captain Stephen Russell and Minister of Foreign Affairs and Immigration, the Hon. Fred Mitchell.
The donation follows months of dedicated fundraising by the community, led by the Consulate General in Miami. In addition to managing the donated funds, the consulate also hosted a drive for emergency supplies to aid those affected immediately after the storm, and hosted a fundraising service at the New Baptist Church in Miami. Other generous cash donations came from the St. Matthews Missionary Baptist Church and The Baptist Minister Council of Greater Miami Vicinity
One of the strongest storms on record, Hurricane Joaquin had devastated large swaths of the southern islands when the storm hit late September last year, causing extensive flooding and left hundreds homeless across Long Island, Exuma, and San Salvador. Prime Minister of the Bahamas Perry Christie has previously estimated that damages from Joaquin would exceed $60 million.