LAUDERDALE LAKES, Florida – The public meeting room at the City of Lauderdale Lakes Educational and Cultural Center was crowded beyond capacity on Saturday evening August 17, as over 500 guests celebrated the 132nd anniversary of the birth of Jamaican National Hero Marcus Garvey at the 2019 Marcus Garvey Rootz Extravaganza.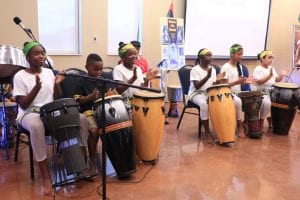 The day was dubbed "Marcus Garvey Appreciation Day" in the City of Lauderdale Lakes by the city Mayor Hazelle Rogers.
Guests at Saturday's events were welcomed by Jamaica's Consul General to the Southern USA, Oliver Mair, who hailed the service of Garvey and the inspiration he has offered to Jamaicans and the black race.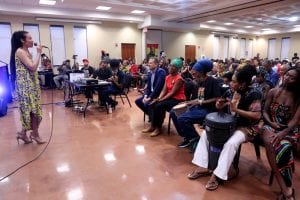 Garvey scholar, University of the West Indies lecturer and author Professor Clinton Hutton delivered the keynote address in which he urged the attentive audience to revisit the teachings of Garvey and renew their confidence as black people. "Black people must be proud of their heritage. They should not allow themselves to be like roasted breadfruits—black on the outside and white on the inside."
The evening's highlight was the presentation of Marcus Garvey Community Service Awards to Lauderhill dentist Dr. Milton Tomlinson and Washington DC-based social activists Karl and Valerie Phillpotts of the Shashamane Community Settlement Development Foundation.
The Phillpotts have worked tirelessly for years in Ethiopia in aiding the development of the repatriate Shashamane community, particularly in the areas of education, healthcare, agriculture, and recreation. The Shashamane Foundation in establishing the Rastafari Development Community Kindergarten and Elementary School in Shashamane, which now has some 400 students and 32 staff members.
Dr. Tomlinson has served the South Florida community as an outstanding dental practitioner in Lauderhill and has received many accolades for his work. He has also served the community as an ardent soccer coach since 1999 and has quietly sponsored several community projects, particularly those involving the youth.
The program included live performances by master drummer Nanyamka Graham, the Drumming Fingers Children's Dance Troupe, vocalists Shemana and Sister Moy, spoken word artist Sharon the Conscious One, and veteran Studio One keyboardist and one-man-band Pablove Black.
A medical marijuana industry status report was provided by cannabis certified neurologist Dr. Anthony Hall and Holistic Naturopath Priest Douggie Smith. The reports expounded on the positives and the growing political and social acceptance of medical marijuana in North America and Jamaica.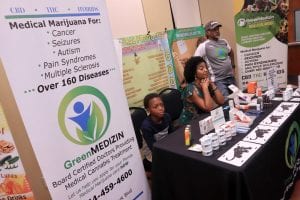 Co-Emcees for the Extravaganza were Sister Marsha and local radio personality Yvette Marshall.