A Jamaican educator has been named Teacher of the Year 2020-21 at the Pines Middle School in Broward County, Florida.
James Sinclair, a former Jamaica College student, was honored by the school for his outstanding duties of an educator, which have involved literacy and art lessons to help his students.
Pine Middle School posted the announcement on their website: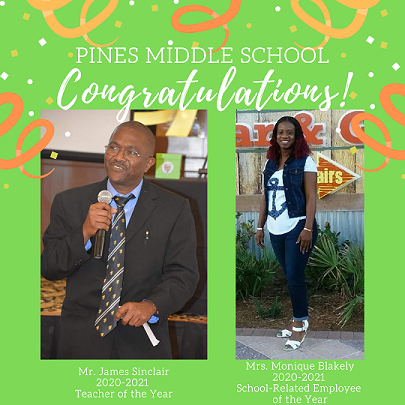 Sinclair became a reading teacher at the school in 2005 after earning a Master of Science in Reading Education from Nova South Eastern University in Florida that same year.
He was born in Hermitage, August Town, St. Andrew in Jamaica in 1958. He attended Jamaica College during the 1970s and excelled in academics and sports as a member of the school team that won the Manning Cup Football Competition in 1974. He was also a member of the Real Mona Football Club.
After graduating from Jamaica College, he studied at Alabama A&M University. Before beginning his teaching career in Florida, he briefly returned to Jamaica to coach at his alma mater from 1982 to 1984.
Sinclair has been recognized twice by the State of Florida for being among the top five percent of educators teaching literacy in the state. He is also a member of the Jamaica College Old Boys Association of Florida.
Jamaica's Consul General in Miami, Oliver Mair, sent his congratulations to Sinclair via Instagram.