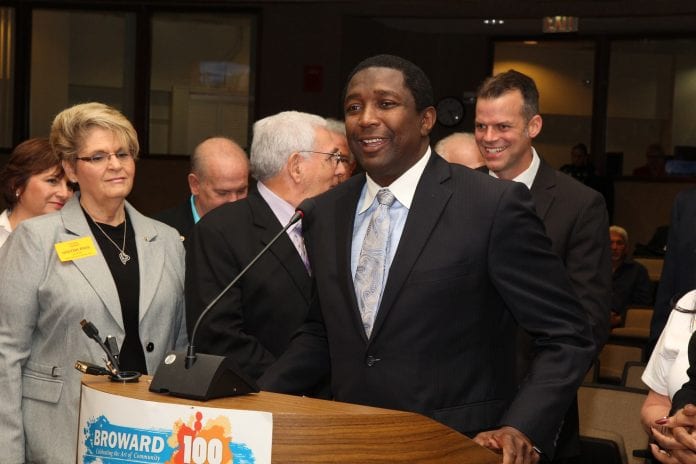 Holness duly elected Broward Commissioner
Although incumbent Broward Commissioner Dale Holness held off the challenge posed by Florida Senator Chris Smith in the August 30 Primary Elections, he wasn't formerly reelected to the commission. Up to last week Holness still faced November 8, General Election challenges from three candidates who although having no-party affiliation, had registered with the Broward Supervisor of Elections by writing in their names as independent candidates.
The three write-in candidates have withdrawn their names from the general elections, however, leaving Holness unopposed and therefore unofficially reelected as Broward Commissioner representing the county's District 9.
Former Write-in candidate Janet Burnett withdrew her candidacy on September 9, and Devon Bush submitted his withdrawal notice to the Broward SOE on Monday. According to the SOE website the other candidate, Phanor Viveros, has also withdrawn.
Speaking with National Weekly on Tuesday, Holness expressed humility at his eventual reelection. "Politics is and always should be an opportunity to serve the people, and I am humbled to be allowed the opportunity to continue serving the residents of Broward County for another term."
Holness who was first elected commissioner in 2010, said the work of a commissioner, regardless of how long he or she has served a county or a city is ongoing. "The needs of people grow daily. Today a commissioner works to meet certain needs, but tomorrow there are people who have new and different needs. However, I am looking forward to return to the commission to attempt to meet the needs of all the residents of the district and the county."
He said his priority will be to continue to grow the county's economy and ensure that people who have been left out of opportunities, with their needs still unsatisfied, can have access to these opportunities. "There is still too much unemployment in the county, especially in the Black community. This must be corrected. My goal is to work with the other commissioners to drive employment by bringing more trade and businesses to the county."
Holness, citing the examples of Dubai and Singapore, is convinced Broward County has the potential to be a particular vibrant international business community. He firmly believes more business and employment can be developed in the county through targeting industries in the technology, aviation and marine sectors. "Broward County already has the basis for significant development in aviation and shipping maintenance. These are serious job-growing areas."
With his reelection settled, Holness plans to roll his campaign apparatus to merge with the Hillary Clinton campaign. "I fully support Mrs. Clinton for president. However, there's a lot of work to be done before Election Day. Much more focus must be placed on getting out the vote in Broward County in the general elections. Not a single vote can be taken for granted in this election."