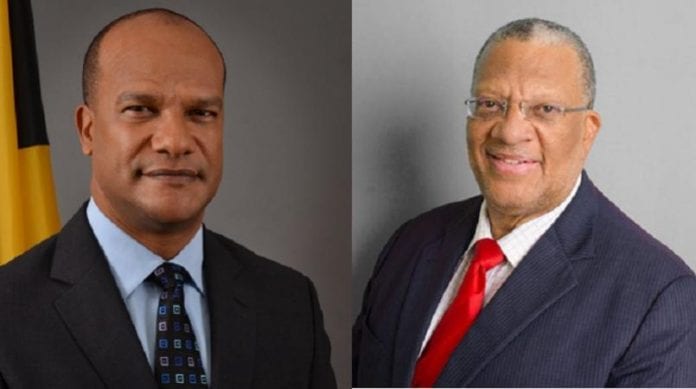 KINGSTON, Jamaica – The race for leadership of Jamaica's Opposition Party, the People's National Party (PNP) will culminate on September 7 at a special delegates' conference, when comrades will vote to either reelect the incumbent Dr. Peter Phillips or a new leader in former Minister of National Security Peter Bunting.
In early June, Bunting, the sitting member of parliament for Central Manchester, announced he would challenge Phillips leader of the opposition and former Minister of Finance for the PNP leadership.
Since then, both Peters have launched campaigns backed by other PNP politicians who have chosen their sides in the presidential contest.
St. Ann North-West MP, Dr. Dayton Campbell, Westmoreland Eastern MP Luther Buchanan, Hanover Western MP Ian Hayles, Former Education Minister, and Kingston Central MP Ronnie Thwaites, Southern Manchester MP Michael Stewart and Mark Golding have sided with Bunting.
Polls Indicate Bunting Will Win
In a recent poll conducted by data intelligence firm, Bluedot Insights, from August 22 August 26, 54% of the respondents said that Bunting would be a better party leader compared to the 46% that chose Phillips. The poll surveyed about 1,200 Jamaicans across the 14 parishes.
Age has also been a huge factor in determining who may win the leadership race as the younger generation, 18 – 24 and 25 – 35 have shown their preference for 58-year-old Bunting, while the over 45-years-old have shown their preference to Phillips. If left up to Jamaica's younger generation to decide, it's clear Bunting would become the sixth party leader of the PNP on September 7, the day he celebrates his 59th birthday.
Other than the choice between Bunting and Phillips, the poll also indicated that if an election were to be called in Jamaica this month, the JLP would remain in government with 57% of the votes compared to PNP's 43%.
In another popular local poll, the Don Anderson poll, 36% of the respondents say Bunting has a better chance of defeating Prime Minister Andrew Holness in a national election, versus the 16% that have put their faith in Phillips.
It is now left to the PNP delegates to decide who will become the next leader as the party celebrates its 81st year of existence.