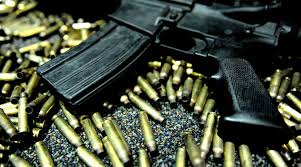 The Trinidad and Tobago Police Service on Wednesday said there were "notable success" in the recovery of illegal arms and ammunition and the seizure of narcotics in recent years.
A TTPS release stated that 2,158 firearms, and 37,000 rounds of assorted ammunition were seized since 2015.
Millions in cocaine and marijuana seized
Police statistics indicate that a total of $109,637,067 in cocaine and marijuana were seized in 2016, while in 2017 thus far $30,727,305 has been confiscated.
Additionally, approximately 37,000 rounds of assorted ammunition have been seized since 2015. The TTPS further seized 691 and 765 firearms for 2015 and 2016 respectively. While 702 firearms have been seized for 2017 thus far. Of the nine divisions, the majority of seizures were made in the Northern, Western and Southern divisions. Of these 2,158 firearms seized for the period overall, the largest categories were that of pistols and revolvers.
Efforts to cut drug supply bearing fruit
The TTPS said that this was due to the efforts in drug supply reduction by several State agencies.
"The effort in drug supply reduction by local agencies such as Customs and Excise, Trinidad and Tobago Coast Guard , security agencies at all ports of entry should not go unnoticed and for this the TTPS commends them for their efforts. These supply reduction efforts, which represent illegal narcotic seizures and eradications, are only one aspect; as the Organized Crime, Narcotics and Firearms Bureau (OCNFB) and other external stakeholders continue to engage in Demand Reduction exercises, such as lectures and displays. These demand reduction exercises are geared toward diminishing the appetite and interest in illegal narcotics, catering to persons of all ages", the release stated."
The TTPS said a number of first-time offenders were being held with large quantities of narcotics.
"To add, these offenders are not limited to unemployed persons seeking financial gain but professionals, who are otherwise employed in high paying jobs", the release said.
The Police Service encouraged the public to "join in the fight" to assist law enforcement agencies in their crackdown efforts.
"The TTPS and by extension the OCNFB has recognized the continued interest in possessing illegal firearms and narcotics by small groups in society, and issues a call for the civic-minded nationals to join in the fight. Those willing to assist the law enforcement community in making Trinidad and Tobago a safer place, we call on you to help us to make a difference", the release stated.