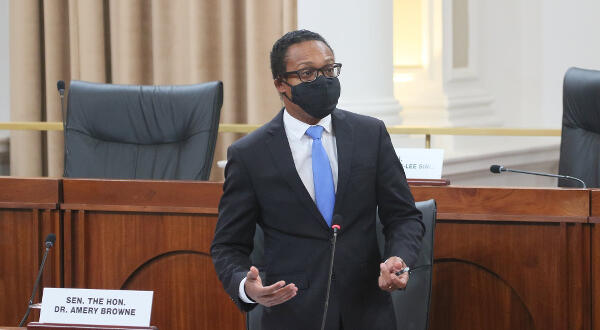 The Trinidad and Tobago government Friday said it is awaiting the outcome of a legal challenge on behalf of several Venezuelan nationals including 16 children, not to be deported from the country, even as it insisted it "reserves the right to make appropriate adjustments in accordance with the law and in pursuit of the best interests of our nation".
In a statement, the Minister of Foreign and CARICOM Affairs, Dr. Amery Browne, said Trinidad and Tobago has always been a good neighbour and hospitable land, and this will not change.
"We have neither inclination to be drawn into the internal political contests of other countries, nor are we disposed to respond to their various participants.  Our local courts are now engaged in consideration of a recent situation involving the crossing of our borders by a boat transporting both adults and minors.
"We await the full determination of this matter within our legal system and reserve the right to make appropriate adjustments in accordance with the law and in pursuit of the best interests of our nation," he said.
Local media Friday reported that three of the Venezuelans including a four-year-old boy were removed from a police station on Thursday and taken to the State's quarantine facility at Chaguaramas, west of here, in keeping with a court's order.
The reports said also that the three have also been granted asylum-seeker status by the UN High Commission for Refugees (UNHCR) and that their applications will form part of Felix Marcano's case. Marcano is the father of the two children and partner to their mother.
The letter from the UNHCR said everyone had the human right to claim asylum, regardless of their registration status with the UNHCR, and adopted the family's application on the principle that every effort should be made to ensure the reunification of separated families with the least possible delay.
The letter also highlighted an independent fact-finding mission on Venezuela and its conclusion that its state actors have committed large-scale human-rights violations, some of which amount to crimes against humanity. It also spoke to its own guidance note on outflows of Venezuelans, which calls on receiving states to allow Venezuelans access and not deport, expel or forcibly return them.
Twenty-three other Venezuelans were expected to remain in state-ordered mandatory quarantine for at least 14 days, and will not be deported at least until the court determines their status.
During the court hearing, Justice Avason Quinlan-Williams urged the State to establish a policy for asylum-seekers since Venezuelans could not be approaching the courts on a daily basis.
The judge also said she did not allow the media at the virtual hearing since it involved children and urged the media to leave the names of the children out of their reports.
Earlier this week, Prime Minister Dr. Keith Rowley criticised the international community, most notably the Organisation of American States (OAS) and the UNHCR regarding the controversy that has erupted after the Venezuelans, deported last weekend, returned to the island late Tuesday.
In a strongly-worded statement, Prime Minister Rowley said his administration was not surprised at the unfolding situation given that the OAS "under its misguided (Secretary-General) President (Luis) Almagro has been almost singlehandedly responsible for triggering and fuelling the current Venezuelan situation".
He said that these public officials have virtually declared war on Trinidad and Tobago for having the "temerity to have not joined Elliot Abrams and President (Donald) Trump in forcing violent regime change in Venezuela.
The US embassy here has since sought to distance itself from the ongoing political end social situation in Venezuela that has led to an exodus of many of its citizens.
In a statement, the US Ambassador to Trinidad and Tobago, Joseph N. Mondello, said the responsibility for the humanitarian crisis in Venezuela lies squarely with the failed policies and abuses of the Nicholas Maduro regime.
In his statement on Friday, Browne said Trinidad and Tobago is a "sovereign nation" that is doing its utmost to overcome a pandemic that remains a clear and present danger to the globe.
He said as a small-island state, "we have compassionately taken the unprecedented step of officially registering and facilitating over 16,000 migrants from Venezuela to live and work in Trinidad and Tobago.
"This hospitality continues even as our economy faces significant challenges that have affected all our people. Everywhere you go in Trinidad and Tobago you find our Venezuelan brothers and sisters living, working, being educated, and engaging fully with our health care system and other sectors. We assert that this reality must be well known and acknowledged by all responsible parties. :
But he reminded that there is another reality affecting Trinidad and Tobago,"and that is the flagrant disregard for our nation's borders by drug runners, gun runners, human traffickers, others linked to organised crime in South America, and specifically by mercenaries who contribute to the exploitation of women and children and profit directly from the facilitation of illegal crossings.
"These exploiters do not seek the genuine interest of those they profit from, and they have no qualms about adjusting their strategies to take advantage of any loopholes that may be created by others. "
Browne said that in the "current circumstances our nation simply cannot open its borders or reduce protections for the health and welfare of our people.
"Even developed nations with far greater resources face major challenges dealing with crossings of their borders, and no nation accepts non-nationals without due process," he said.
CMC