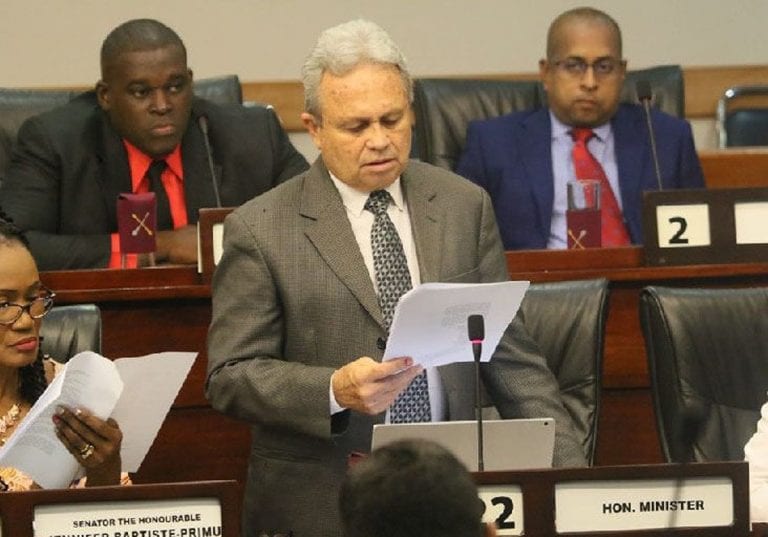 The government of Trinidad and Tobago has announced that it will "freeze" the filling of all vacancies in the public sector for a period of one year.
Finance Minister Colm Imbert made the announcement as he delivered the 2021 Budget Presentation in the House of Representatives on Monday.
He said: "As an initial step and the context of a constrained revenue situation we are freezing the filling of all vacancies in the public sector."
This means that there will be no new hires for any currently vacant government position in Trinidad and Tobago for the next year.
He also announced that the government will consider raising the retirement age to 65, up from 60-years-old.
Imbert said: "With expenditure on benefits now exceeding contribution income we will take whatever steps necessary to maintain the integrity and viability of the National Insurance Board, including a serious examination of the need to extend the retirement age to 65."
The Finance Minister also announced a raft of tax measures including a new income tax initiative that would allow for persons earning TT$7,000 a month to no longer pay income taxes.
"Madam Speaker as a huge fiscal stimulus to the economy and a fillip to the retail sector we are providing relief to working families by increasing the personal income tax exemption limit from TT$72,000 to TT$84,000 per year.
"All individuals earning TT$7,000 a month or less will now be exempt from income tax. This will put additional income of TT$3,000 per year into the pockets of over 250,000 individual taxpayers. This bold measure will cost the government TT$750 million per year…but we firmly believe that in this difficult COVID-19 period, it will stimulate the demand side of the economy by stimulating economic activity, consumption, sales and growth by putting more money in the hands of consumers.
"We believe that through the multiplier effect, the net effect on our GDP (gross domestic product) will be much more than TT$750 million. This measure will take effect on January 1, 2021," Imbert said during his four-hour presentation.
In his presentation, Imbert also announced that in keeping with the government's efforts to fully digitalise the economy, all taxes on mobile and digital equipment, mobile phones, software, computers, and accessories will be removed.
He said a tax allowance will be provided to businesses which invest in tech start-ups and new businesses, with the allowance set at 150 per cent with a cap of three million TT dollars.
A similar initiative will be provided for businesses that engage in technology solutions and digitalisation as well as those businesses that create employment, particularly for young people in the technology industry.
He said that the government would be providing a waiver on imported construction material for approved building projects, which start on or before December 31, 2022, there would be no value-added tax (VAT) on the importation of building materials to be used exclusively in connection with the projects.
This tax measure would also be extended to approved tourism projects and will come into effect on January 1, 2021.
Imbert said that there would also be a waiver of stamp duties for first-time homeowners and to encourage the private sector to invest in residential housing development, the stamp duty would be amended from the current TT$1.5 million to two million.
"This measure will save first-time homeowners TT$28,000 in stamp duties and will benefit up to one thousand families per year," Imbert said, adding that the Corporation Tax Act would be amended to assist property developers.
Imbert said that the government expects that new digital economy, for which to establish we have set a tight time frame of two years, will generate a new and modern society.
"We expect in this process to establish a new type of management –one based on societal cooperation whereby all stakeholders collaborate across all sectors for the benefit of the country, including the requirements to contain vigorously the spread of the virus.
"The wearing of masks, social distancing, the avoidance of crowds and good hygiene must be accorded the highest priority in our day-to-day activities. Stay at home, stop the spread and save lives."
Debate on the budget will begin on Friday.
CMC