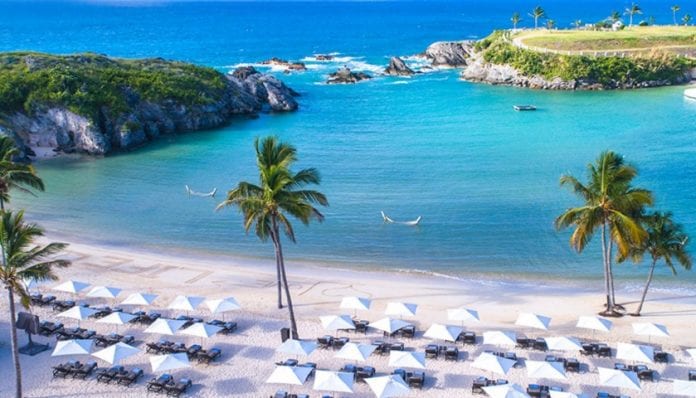 HAMILTON, Bermuda – Bermuda's two best-known hotels are set to reopen within the next three weeks, making available nearly 1,000 rooms for tourists who are gradually returning to the island after borders were closed in March because of the coronavirus pandemic.
The Hamilton Princess and Beach Club, the island's oldest hotel, intends to reopen on August 24, while its former sister property the Fairmont Southampton plans to start welcoming guests again from September 1.
The Fairmont has nearly 600 rooms and the Princess about 400. Available room inventory on the island now stands at 548 rooms, according to a Bermuda Tourism Authority (BTA) update.
South Shore hotel The Reefs Resort and Club, which has 61 rooms and 19 resident suites, was recently reopened.
According to the owner of the property, David Dodwell, The Reefs had seen enough bookings, including many from locals booking staycations, to give some of its employees a chance to get back to work.
He added that perceived safety of the island and the resort had been an important consideration for the first overseas guests who arrived last weekend.
Dodwell, who also owns the Nisbet Plantation Beach Club on Nevis, said: "While we won't be seeing anywhere near the normal level of business in the hotel that we would in a regular year, we saw enough reservations to give our staff a much needed opportunity to begin to get back to work.
"We have already been amazed by the response from the local community in booking staycations and dinner reservations".
Flights to the island resumed from the start of July after the L.F. Wade International Airport had been closed for three months in an effort to combat the spread of COVID-19.
The BTA's preliminary air arrivals data for July show there were 3,285 arriving passengers, of whom 1,725 were non-residents.
Visitors staying in hotels or guest houses on the island numbered 621, compared to 24,830 in July 2019, representing a fall of 97.5 per cent.
A bright spot was that hotel guests stayed longer, 12 days on average, compared to four days in July 2019.
Airlift to the island totalled just 5,306 seats in July, but that will rise to 11,846 seats this month, still down 80.9 per cent from last year, according to the BTA data.
August flights include two services from JetBlue, five times a week from New York's JFK Airport and twice a week from Boston.
British Airways is increasing its London Gatwick service from twice to three times a week this month, while Delta Air Lines will fly from Atlanta five times a week.
In September, airlift will increase to 18,970 seats, helped by the return of the American Airlines' Miami service, five times a week from September 10 and WestJet's Toronto service, twice a week from September 5. The Miami flight is popular with Bermuda residents heading to the Caribbean as there are no direct flights from the island.
Delta's Boston and JFK services are expected to return in November, while American's JFK and Philadelphia flights' planned resumption is in December.
Bermuda has now carried out more than 30,000 COVID-19 tests. Confirmed cases stand at 159 with nine people dying.
CMC