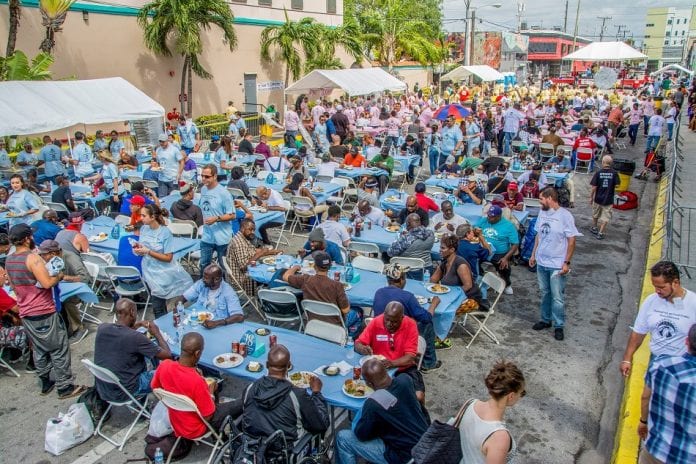 On Good Friday, April 19, the Miami Rescue Mission | Broward Outreach Centers will hold the annual "Thanksgiving on Good Friday" Block Party for the homeless and hungry families of South Florida. Along with a sit down Thanksgiving meal, volunteers will wash the feet of the homeless and needy and Barry Podiatry Students will provide foot care in remembrance of Jesus washing the feet of the disciples.
 Nearly 400 volunteers will provide over 2,000 Thanksgiving meals.  Those in attendance will be treated to haircuts, great entertainment, and special gifts.  Over 300 Easter Baskets will be given to children in our centers and those in attendance. Adults and children alike will feel important and shown the love of God.
The event will commence at 10:00am through to 1:00 pm at the
Miami Rescue Mission: 2020 NW 1st Avenue Miami, FL 33127 (on the street), and also on the street at the Broward Outreach Center Hollywood: 2056 Scott Street Hollywood, FL 33020.
Rev. Ronald Brummitt, President of the Miami Rescue Mission | Broward Outreach Centers said, "It's a privilege to provide meals and assistance to the neediest members of our community. We want homeless and at-risk families to know they are loved and that we are here to help.  Through our Good Friday Outreach, many hurting people are shown that they are not forgotten and people really do care. Many homeless will decide to come off the streets and enter one of our life-changing programs. We couldn't do all that we do without our amazing donors, supporters and volunteers.  A special blessing to each of them."