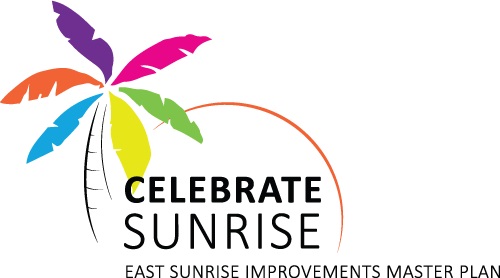 Sunrise, Florida – On February 13, 2019, Sunrise residents are invited to participate in a public workshop at Village Civic Center (6800 Sunset Strip) to review the summary and findings from the draft of the East Sunrise Improvements Master Plan, the long-range vision and redevelopment plan for the City's original neighborhoods.
Focus on eastern Sunrise
This event is intended to share key plan elements with citizens and businesses in the neighborhoods extending from the west side of University Drive to the eastern city limits between Oakland Park Boulevard south to Sunrise Boulevard. This geographic area includes what would have been the City's earliest developed parcels following the City's incorporation in 1961.
"Our vision for this plan is to ensure that east Sunrise will remain a maximally safe and desirable place in which to live, work and play, with attractive streets, buildings, and green space alongside a vibrant local business community," says Sunrise City Manager Richard Salamon. "We've offered the people of Sunrise, including long-term residents and new families just moving in, an opportunity to voice their opinion and set priorities right along with the staff and elected officials. We hope the future needs of our community are faithfully represented by this plan and how it is executed!"
To review master plan
A master plan can help create a vibrant, healthy and sustainable community and improve citizens' quality of life by identifying appropriate locations for commercial, residential, and mixed-use development as well as other locations where the City should consider increasing density, encouraging redevelopment, or intervening in other ways. The City of Sunrise is also counting on the plan to help identify opportunities to extend and/or improve open space, recreational areas, and civic facilities. Additionally, the plan will offer strategies for increasing economic development, private investment, and improving neighborhood aesthetics. To that end, RMA will be summarizing recommendations of environmental, historic, and cultural resources that need conservation.
Following the designation of Sunrise as a Bicycle Friendly Community by the League of American Bicyclists in December 2018 and the openings of two new bike lanes on 44th Street and Sunset Strip in 2018, the master plan is also concerned with identifying opportunities to further improve connectivity between pedestrians, bicycles, buses and cars as well as other strategies for reducing congestion and improving transit services.
The public workshop will begin with an introductory presentation summarizing the current plan delivered by RMA, the City's Master Plan consultant. For additional information about the East Sunrise Improvements Master Plan, please visit https://www.celebratesunrise.com or call (954) 746-3288.