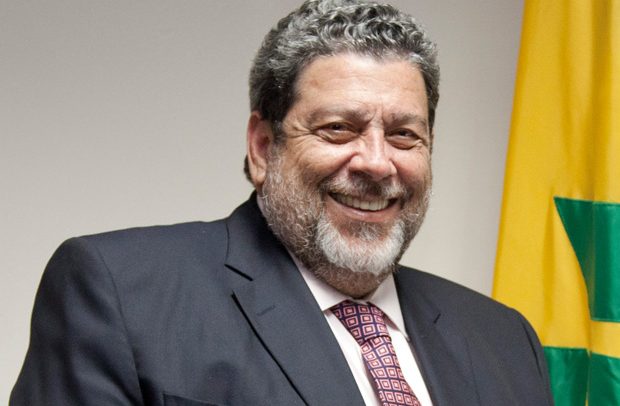 The people of St.Vincent and the Grenadines will go to the polls on November 5 in a general election.
Prime Minister Dr. Ralph Gonsalves who is seeking his fifth consecutive term, made the announcement during a meeting of his ruling Unity Labour Party (ULP).
The Prime Minister, 74, will go up against opponents from the main opposition New Democratic Party (NDP) led by Opposition Leader Dr. Godwin Friday for control of the 15 seat Parliament.
In the December 2015 general election, the ruling ULP won by an 8-7 margin, enjoying the same slender one-seat majority in the previous election.
Gonsalves, who had long promised that the polls would be held this year ahead of the constitutional deadline of March next year, told a meeting of his ruling Unity Labour Party (ULP) on Thursday night that Parliament will be dissolved on Friday, and Nomination Day will be October 20.
"I expect that these general elections will be held in a peaceful environment," Gonsalves said, adding that the Supervisor of Elections, Dora James, who is presiding over her first polls, and the permanent secretary in the Ministry of National Security had assured him that "all practical matters requisite for the holding free and fair elections in accordance with law are in place.
"The Unity Labour Party promises a clean, informative and uplifting campaign. I am now ready to rumble in earnest. This time, they must take their licks like a man," he said.
The 74-year-old lawyer is leading his party into the polls again although, in 2015, he had asked the electorate to give him another term in office to transition to a younger leader.
He has since said that the party had maintained that he remain at the helm for this election, and the announcement of the date for the polls came after legislators paid tribute in Parliament to former Opposition Leader, Armhin Eustace, 76, who led the New Democratic Party (NDP) to four electoral defeats.
Eustace stepped down as NDP leader in November 2016 and has been succeeded by Dr. Godwin Friday, 61, a lawyer, who has been representing the Northern Grenadines since 2001.
However, Gonsalves, who returned to the country 14 days ago from the United States, to where he had accompanied his wife, Eloise, for medical attention, did not attend the sitting.
Ahead of the announcement of the election date on Thursday night, Prime Minister Gonsalves had participated in a "Round De Town Caravan" of the ULP, with the party leader .alternating between sitting in a couch and standing and waving at supporters while ringing a bell.
The election date was announced from the undisclosed location from which the ULP broadcasts its virtual public meetings, as both political parties have suspended large-scale in-person public meetings because of the COVID-19 pandemic.
This is the first time that Gonsalves has opted for an election outside of December, with the preceding three polls having been held during that month.
But, as has been the case with the other election dates, Gonsalves said on Thursday that he had gotten the inspiration from scripture.
"I have sought confirmation on … the date for the general elections with the prayerful plea, 'Speak, Lord, Your servant Ralph is listening'," the prime minister said in the uncharacteristically short, 15-minute speech in which he announced the election date.
He, however, returned later in the virtual meetings, using some 90 minutes to outline his party's case for re-election.
Gonsalves said that in several speeches, he had quoted Deuteronomy, the fifth book of the Bible, adding "five in a row," one of his party's campaign mantras.
"I quoted Moses, God's anointed prophet and liberator of the Hebrew people. In chapter 11, verse five. 'It was not your children who saw what he did for you in the desert until you arrive at this place.'
"St. Vincent and Grenadines had been a metaphoric desert in March 2001. And we have come to a far better place in a far better condition — a transformed condition," Gonsalves said, adding "and as Moses emphasised, it was your own eyes that saw all the great things that the Lord has done.
"The 11th chapter of Deuteronomy represents for me in our circumstances, the 11th month of the year, November the fifth verse the fifth day. General elections will be held on Thursday November the fifth 2020," he said in making the announcement.
Gonsalves told party supporters that Vincentians will vote two days after the United States goes to the polls in presidential elections.
He said the ULP had an interest in a high turnout saying that once party supporters and the youth turn out to the polls, the ULP is bound to win the election.
Gonsalves said that US network television is likely to urge high voter turnout in the United States, "and Vincentians will be saying, we have to turn out too".
Gonsalves said that in his almost 19 years as prime minister he has served "to the best of my ability, selflessly and honestly, ever on one single occasion, using, misusing or abusing public resources for private gain.
"I have served you with immense caring, dedication, commitment, hard and smart work and, above all, with a profound love for my country, our people and our Caribbean civilization. I have been with you joyously at the mountain tops of achievements and together we have accomplished mighty things for our nation. And together again, we will talk about more progress and prosperity for St. Vincent and the Grenadines.
"I've also embraced you in heart and spirit, on the occasions in which we have found ourselves in the valley of hardship and misfortune, of loss and damage of pain and suffering. Whether celebrating in happiness or consoling in heartache or sadness, I have been in communion with you.
"Most of all, whether we are up on the mountaintop, or down in the valley, you and I, all the people of St. Vincent and the Grenadines, despite our weaknesses and sinfulness, we go to our God in adoration, contrition, thanksgiving and supplication, because we know that He is our God on the highest mountain and ours too in the deepest Valley."
Gonsalves said that from "this wellspring of humility, justice, goodness, and mercy, we have bountiful hope.
"As you know quite well. I have never been a pessimist. I have never accepted that we can't do this or that which is uplifting. I am a man of creative thought, purposeful action, and hopefulness. I am not a man of lamentations.
"I'm always optimistic about life and living. That is the essence of a redeeming grace — always hopeful. 'Morning by morning, new mercies we see all that we need, Your hand, Thy hand has provided. Great is your faithfulness.'
"We must continue to exude hope, not helplessness. A helplessness we must not have because that embraces a debilitating hopelessness," Gonsalves told supporters.
CMC