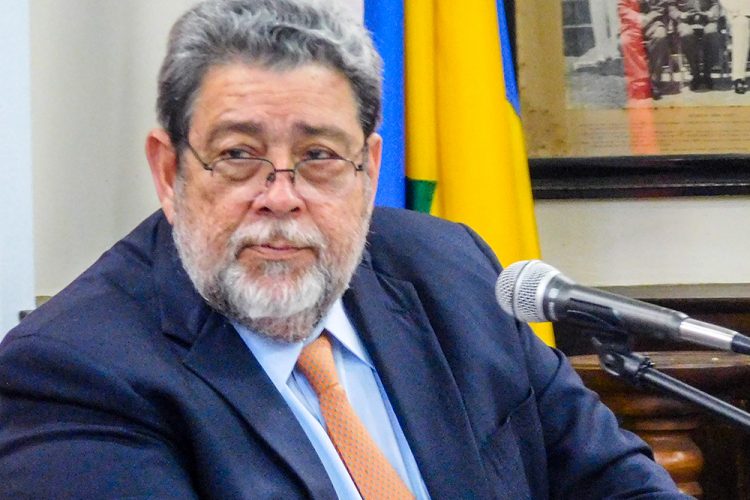 St Vincent and the Grenadines Prime Minister Dr. Ralph Gonsalves says the coronavirus (COVID-19) pandemic has laid bare the reality that a renewed multilateralism remains "an urgent moral, political and existential imperative".
In a virtual address to the United Nations Security Council on upholding multilateralism, Gonsalves, who is also his country's Foreign Affairs Minister, said the principles of multilateralism are "under-girded by the UN Charter principles of sovereignty, territorial integrity and political independence."
Speaking on the topic, "Maintenance of International Peace and Security: Upholding Multilateralism and the United Nations-centered International System", Gonsalves noted that, amid the severe health, socioeconomic, political and security implications of COVID-19, states are still required to contend with the "ever-intensifying hazards of climate change; the continued spread of terrorism and organized crime; increased hunger and acute food insecurity.
He said they also have to deal with political polarization, disinformation and hate speech; the escalation of ethnic and intercommunal tensions; and, in far too many contexts, conflict and mass human displacement.
"These contemporary challenges are inextricably inter-connected, and they will not be successfully addressed by any short-sighted unilateral or military means.
"To the extent that many of these issues stretch across borders, and more easily overwhelm the limited capacities of vulnerable states, effective and coordinated multilateral action is an essential condition for any sustainable solution," Gonsalves said, adding that "only a comprehensive whole-of-system approach would suffice in addressing the peace and security, development and humanitarian concerns of affected states".
In the face of vast but continually expanding peace and security challenges experienced globally, Prime Minister Gonsalves urged the UN to move quickly in a "fresh direction," saying that "bold and innovative steps are needed to alleviate human suffering, especially in conflict-affected settings".
He also urged that capacity-building and development assistance be scaled up, and national ownership over peace and political processes strengthened.
"Practical, inclusive, people-centered, and climate-sensitive solutions ought to be developed and implemented in line with national needs and priorities, and in accordance with the Sustainable Development Goals," he said, alluding to the UN's Sustainable Development Goals (SDGs).
Gonsalves said it is necessary and desirable that all states work together constructively and within the framework of international law – with the support and assistance of the United Nations and relevant
regional and sub-regional organizations – "to achieve this vision of a more peaceful and prosperous world."
When disputes do occur, he said "they ought to be settled amicably and equitably through dialogue, diplomacy, mediation and other participatory approaches, rather than through unilateral or coercive means.
"There can be no substitute for trust and mutual respect," the Vincentian prime minister said. "Any deviation from these universally accepted norms, wheresoever and by whomsoever committed, severely undermines the ideals of multilateralism embodied in the UN Charter.
"St Vincent and the Grenadines remains committed to these guiding principles," he added.
"As we seek to confront the unique and complex challenges of the 21st Century, including a sustainable recovery from the COVID19 pandemic, which has already destroyed far too many lives and livelihoods, the extant circumstances demand the presence of a renewed and effective multilateralism steeped in the virtues of inclusivity, equality and justice, and guided by the principles of international law," Gonsalves said.
"We cannot remain separated by narrow interests or be divided in purpose," he said. "We must work in comity even more, together, urgently and resolutely, to realize peace, security and development for all of humanity."
In briefing the high-level UN Security Debate, President of the Assembly Volkan Bozkir urged Caribbean and other countries to "do better" in making COVID-19 vaccines available to "everyone, everywhere", warning that "good intentions are no match for vaccines in arms."
He equated fair distribution of vaccines with civilian protection, and commended recent developments on vaccine patent waivers, which he said will help save lives.
Bozkir, however, lamented that low-income countries, such as those in the Caribbean, have so far received just 0.3 percent of all doses.
"We can do better. We must do better", Bozkir told the online meeting.
"The COVID-19 pandemic is not a zero-sum game. Good intentions are no match for vaccines in arms."
CMC