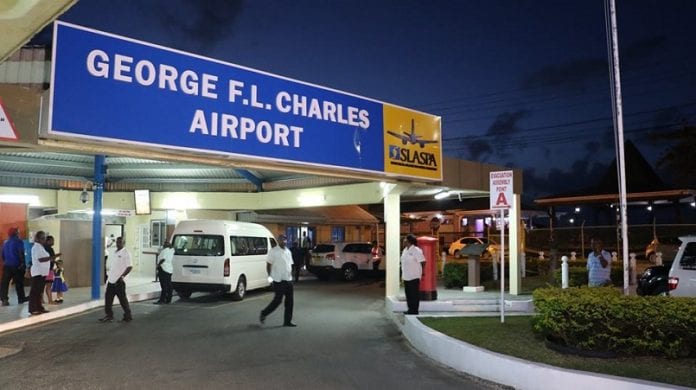 CASTRIES, St. Lucia – Prime Minister Allen Chastanet Friday said that while the health authorities "cannot guarantee" that St. Lucia will not record imported cases of the coronavirus (COVID-19), he was nonetheless pleased that the island had officially began welcoming commercial flights as of Thursday.
The borders had been closed since March 23 and Chastanet, writing on his Facebook page, said that approximately 1,500 tourism workers are now back at work as a result of the reopening of the international airport. An American Airline flight 2295 arrived on the island Thursday from Miami.
"I will admit, it has not been an easy decision, given our success thus far with managing the virus and the trend of increases in some of our key markets," he wrote, adding "the challenge of balancing health security and economic activity has been the most challenging decision that I have had to make since becoming Prime Minister".
St. Lucia has recorded 22 positive cases and no deaths from the virus that was first detected in China last December and since blamed for 557,000 deaths and 12.5 million others being infected world-wide.
Chastanet said that while his administration had from the start of the pandemic "always made the health and safety of the public our main priority, however, we must also keep in mind the plight and suffering of over 20,000 tourism workers and others such as our farmers, fisherfolk and manufacturers who benefit from the activity of the industry".
He said as the island adapts to living with COVID-19, it was necessary for citizens to continue to follow the various protocols including social distancing, wearing of masks and avoiding touching eyes, nose and mouth so as to curb the spread of the virus.
"Whilst we cannot guarantee that we will not record imported cases of COVID-19, please rest assured that we have worked tediously to implement comprehensive and strict protocols to minimize the threat to the public and these efforts will continue.
"This includes the requirement that all visitors be tested before traveling to the island, all visitors go through a new screening process which includes temperature and symptom checks upon arrival. Our tourism and transportation providers have been trained in new COVID-19 protocols and guests will be monitored and checked daily whilst staying at their resort," Chastanet said.
He said that over the next few days and weeks, the Ministry of Health and Tourism officials will keep providing updates to keep the public informed, adding "let's continue to be each other's keeper and keep ourselves, our families and our country safe".
CMC