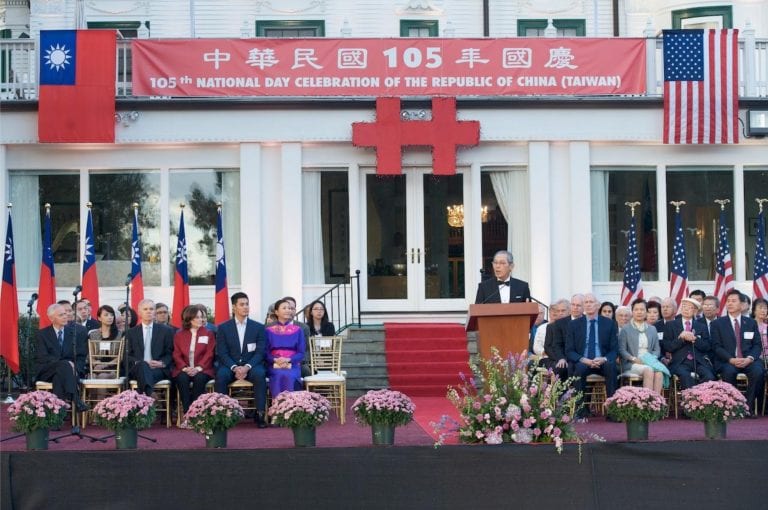 BASSETERRE, ST. KITTS, OCTOBER 7TH, 2016 (PRESS SEC) – Prime Minister Dr. the Honourable Timothy Harris paid a courtesy visit yesterday, Thursday, October 6th, to His Excellency Stanley Kao, representative of the Taipei Economic and Cultural Representative Office (TECRO) to the United States.  The courtesy call in Washington, D.C., came ahead of the National Day of the Republic of China (Taiwan), which is known as Double Ten Day (October 10th).  This year is the 105th celebration.
Representative Kao and Prime Minister Harris reflected on their countries' long-held alliance, which was established in September 1983 right after St. Kitts and Nevis attained Independence from Britain.  They also discussed Dr. Harris' recent trip to Taiwan along with a delegation, to attend the inauguration of Taiwan's first female President, Tsai Ing-wen.
Her Excellency Dr. Thelma Phillip-Browne, St. Kitts and Nevis' Ambassador to the United States of America, accompanied Prime Minister Harris to the meeting and said today that, "The Taiwanese Ambassador thanked the Honourable Prime Minister for being a strong supporter in the international arena, as Taiwan seeks to continue to position itself as an important and responsible stakeholder on the world stage and to give back to the global community."
During the General Debate of the 71st Session of the United Nations General Assembly last month, the Prime Minister of St. Kitts and Nevis notably voiced robust support for Taiwan, saying: "Mr. President [His Excellency Peter Thomson, President of the 71st Session of the U.N. General Assembly], in the last three decades, the tangible support of the Government and people of Taiwan has been remarkable.  Taiwan has stood shoulder to shoulder with the Government and people of St. Kitts and Nevis and remains steadfast in its commitment to supporting our determination to meet our people-empowerment agenda. Their help and solidarity touch almost every facet of life in our twin-island Federation.  These advantages and benefits should not be limited to a few countries.  I know that Taiwan is eager to share its progress and development successes with the rest of the world.  I therefore welcome new opportunities for Taiwan and its people to be warmly welcomed and integrated into the international fraternity of Nations as a global player, whose commitment to the principles of democracy, peace, and people empowerment can touch many more lives."
Tonight in the Federation of St. Kitts and Nevis, government officials, diplomats, and members of the private sector and civil society will attend a formal reception in celebration of Taiwan's 105th National Day.  The reception will be held under the auspices of Resident Ambassador of the Republic of China (Taiwan) to St. Kitts and Nevis, His Excellency Ambassador George Gow Wei Chiou.
On Wednesday, October 5th at the Twin Oaks Estate in Washington, D.C., Representative Stanley Kao delivered remarks at the celebration ceremony of the 105th National Day of the Republic of China (Taiwan).  The ceremony was held under the auspices of Taiwan's representative office in the U.S.