Masks, social distancing and sanitizing were among the new school protocols for the 16 institutions in Jamaica that were selected to welcome students back in their classrooms in Jamaica today.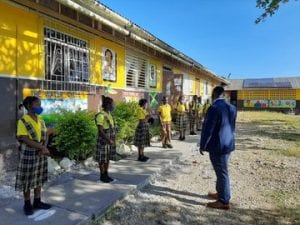 The schools were originally slated to resume face-to-face classes yesterday, however, the start date was pushed back because of persistent rainfall across the island over the weekend.
A total of 17 schools had been selected, but the Yallahs High School in St. Thomas could not reopen today because of severe flooding that had impacted the school grounds.
For the other 16 schools, they will host children until November 20, while online learning continues to take place in the other institutions across the island.
Schools on the island have been closed since March when the first case of COVID-19 was detected. After much delay, schools were reopened in October, with students engaging in online classes, as well as radio and television instructions.
But the lack of physical classes has put a massive strain on the government's resources as they currently struggle with providing students with the technological resources needed for online classes.
The government had previously stated that they would need another six months to fill the need for computer devices in all schools.
Despite the challenges, Prime Minister Andrew Holness says that teachers on the island have stepped up in creative ways to ensure their students are not left behind.
The ministry said assessments and feedback from the schools indicate that locations are ready for classes and arrangements are in place to help students, teachers and other staff to observe the public health protocols mandated by the Ministry of Health and Wellness to mitigate possible spread of the COVID-19 virus.