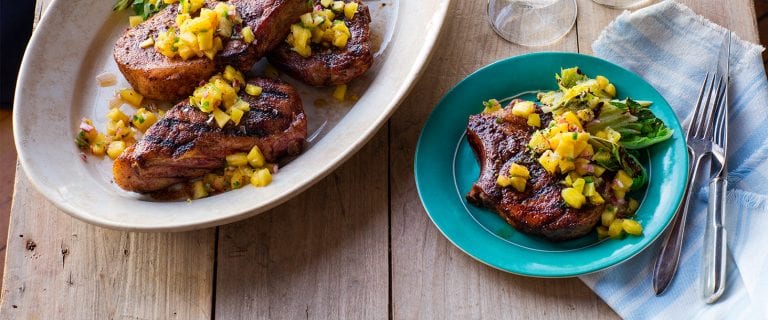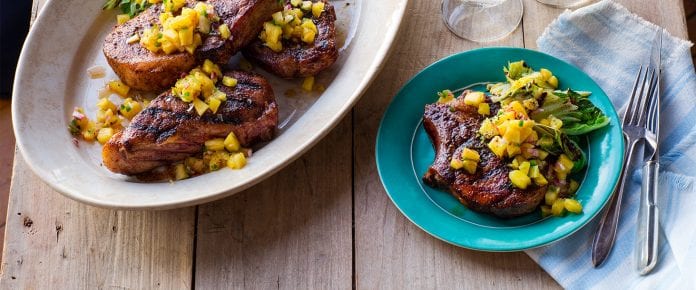 Pineapple Pork Chops
Try this easy prep meal today! Simple steps and only 10 minutes of preparation and 20 minutes of cooking. This recipe can be prepared over rice, couscous or salad for a lighter meal. If you do not eat pork, don't worry. This meal can be substituted for beef or chicken as well. Enjoy some Caribbean flare to a simple traditional dinner.
What You'll Need:
1/2 teaspoon onion powder
1/2 teaspoon smoked paprika
1/2 teaspoon freshly ground black pepper
1 1/4 teaspoons kosher salt, divided
4 (10-ounce) bone-in pork rib chops (about 1 inch thick)
2 tablespoons olive oil, divided
Cooking spray
3 (1/2-inch-thick) red onion slices
1 trimmed fresh pineapple, cut into 1-inch-thick slices
1 teaspoon lime zest
1 tablespoon fresh lime juice
2 tablespoons chopped fresh cilantro
1 pack of Rice or Couscous
What to do:
Sprinkle salt and pepper on pork chops then coat them in flour (be sure to coat them well with the flour).
In a large skillet, heat oil at medium-high heat.
Add pork chops and brown for about 4 minutes (flip them one time).
In a bowl, mix ingredients.
Distribute this mixture evenly onto the pork chops.
Cover and cook at low heat 8 to 10 minutes or until pork chops are slightly pink inside. (If the sauce is too thick, add a little bit of water)
Share your photos of your meals with us on our Facebook and Instagram page.