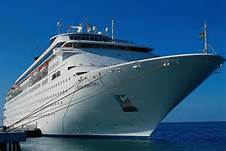 Second cruise pier to be constructed in St. Kitts Nevis by 2019 cruise season
A contract for the construction of a second cruise pier was signed on Wednesday between officials from the St. Christopher Air and Sea Ports Authority (SCASPA) and the Canadian Commercial Corporation (CCC) .
Minister of Public Infrastructure Ian "Patches" Liburd said the project has been in the works for several years and said it is a necessary expenditure for the groth of the tourism industry in the federation.
The initial plans for the second cruise pier project, which began back in 2012, laid the road map for the current project, which is set to start by the end of the first quarter of 2018.
The construction of the pier is expected to be completed within 18 months in time for the 2019 cruise season.
Liburd said that additions were made to the initial plans for the second cruise pier to accommodate two Oasis-sized cruise ships, the world's largest and longest passenger ships, versus the capacity to only accommodate one in the previous plan.
He stated that the plans for the building of the pier also took into consideration withstanding the effects of adverse weather and harsh climate changes.
He said that the undertaking will be funded through the joint efforts of local business establishments.
"This is a testament to the commitment of the Canadian Government to this project and the improvement of our government to government relationships, which we hope will bear many more fruits in the future," said Liburd.