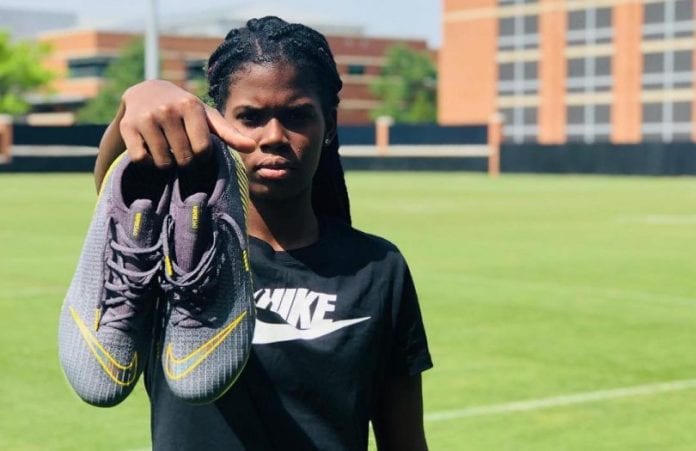 As the Reggae Girlz prepare for the Women's World Cup in France this June, one woman among the batch of stellar athletes has begun to rise in unprecedented ways. Her name is Khadija Shaw – more fondly called "Bunny".
Shaw, 22-years-old, was born and raised in Spanish Town, Jamaica. As the national team's highly lauded striker, she scored an outstanding 19 goals leading up to the historic World Cup qualification in October 2018. As one of the most sought-after players in the game, pundits across the globe have their eyes on Shaw as one to watch during this year's World Cup.
Last week, news broke of Shaw's latest victory – signing a two-year deal with mega-sports apparel company, Nike. The brand ambassadorship contract makes Shaw the first Caribbean female player to enter such a deal.
Only a few months before her latest feat, Shaw also signed with one of the most robust sports agencies in the world, A&V Sports. The move is timely, as later this year she is expected to step into the professional arena, either in Europe or Asia.
Shaw's inspiring journey began while at St. Jago High School in Spanish Town, where she was scouted by the national team's head coach. Before joining the senior team years later in 2015, by the age of 14 Shaw had already played for the national Under 15, Under 17 and Under 20 sides.
Her next stop would be the United States.
Shaw received a scholarship to Navarro College in Texas. Then, from there, moved on to Eastern Florida State College, and in 2017 made her way to the University of Tennessee, where she will graduate this year. With the World Cup slated for this summer, timing, it seems, is perfect for Shaw.
Honored for academic achievement as an athlete at the University of Tennessee, of course Shaw is also a treasured member of her school's soccer squad. In October 2018, she made history for the university by being awarded Offensive Player of the Year in the SEC Women's Soccer Tournament, which is the Southeastern conference championship tournament in college soccer. The award had only ever been given to one other athlete from the university, over a decade earlier.
2018 was clearly an exceptional year for the young athlete. But, 2019 already looks like it's topping last year for the young soccer star. However, life for the Reggae Girlz forward hasn't always been so bright.
Shaw grew up in a large family of seven brothers and five sisters. Last year, she revealed to a reporter in a publication called The Undefeated, that over a short period of time, while attending college in the US, she had lost three of her brothers back home in Spanish Town to gun violence, as well as two cousins. She also lost a fourth brother to a car accident. The last tragic death happened in 2016 while she was at Eastern Florida State College.
By December 2018, after receiving the UK-based Guardian Footballer of the Year award from The Guardian newspaper that month, Shaw publicly shared the debilitating effects the deaths had on her then skyrocketing career.
She explained to The Guardian reporter that though the tragedies were crippling, eventually she used it to fuel her commitment to the game.
"I wanted to go home. I didn't want to play soccer… I would say it definitely got me stronger. And even though it was a rough time, it helped me. You know, in the moment I wouldn't have thought that. But now, to see what I've accomplished, knowing I've lost so much, I would say it definitely helped me. But it was rough. I couldn't focus in school. I was just thinking about it all. And my mum would constantly call me. I would tell my family I want to come home and they're like: 'No, you've got to stay! You've got to make it better for yourself and better for us! So I was like: 'All right, take a deep breath'," she told The Guardian.
Fittingly, the award is given to those who have displayed exceptional standards by way of overcoming adversity, helping others, or setting a sporting example by acting with honesty.
Shaw is ernest about giving back and playing a role in inspiring young people in Jamaica – a mission that is woven throughout the entire Reggae Girlz team and its administration. As Reggae Girlz Foundation President, Michelle Adamolekun, told CNW, "They are playing to change a culture, so that females will be granted equal access to funding to develop at the highest level."
In a Jamaica Observer article last week, Shaw doubled down on the sentiment, declaring, "Jamaica is the land of my birth. I have seen the good, the bad and the ugly, so for me to put myself in the position to give back to my roots through football, it is something I'll do over and over again to inspire those young players who will come after me."
Though she told CNW that plans for the future of her career are still undecided, we can tell that Shaw will continue to break ceilings, score goals and lead victories for many years to come. Armed with heart, positivity and undeniable talent, she's sure to continue to soar.
Shaw will join the rest of Jamaica's national women's team in Miramar May 20 to May 24, for a series of official send-off events, hosted by Jamaica's Consul General Oliver Mair, the Reggae Girlz Foundation, and the City of Miramar.