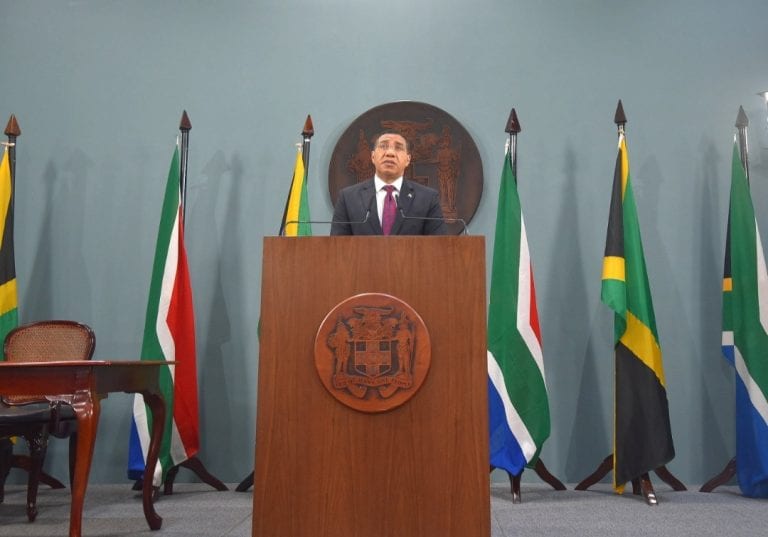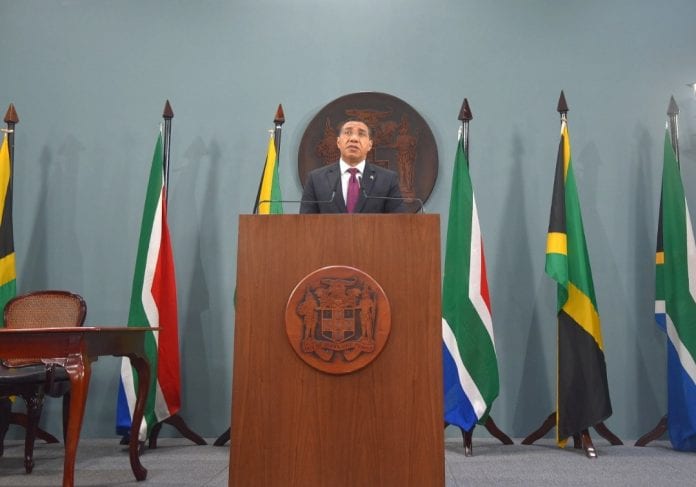 "No one should be left behind," is the message from Jamaica's Prime Minister Andrew Holness regarding the global distribution of COVID-19 vaccines.
Holness spoke on the global access to vaccines during a webinar held on May 25, in recognition of Africa Day 2021.
While addressing government ministers and delegates from the Republic of South Africa, Prime Minister Andrew Holness said it is not morally right that rich countries, many of whom gained their wealth by exploiting Africa and its people, now use that same wealth to hoard COVID-19 vaccines.
"It cannot be morally justified that rich countries, many of whom gained their wealth and scientific advantage through the exploitation of Africa and its people, now use this wealth and scientific advantage to hoard and stockpile vaccines, while the poor and historically exploited and deprived countries wait in uncertainty to access equitable and consistent supplies, their populations at risk and their economies on pause," Mr. Holness said.
"It would be the greatest setback for mankind, if inequitable vaccine access were to cause uneven recovery and a widening of the development gap between rich and poor globally," he added.
Jamaica is one of the countries whose COVID-19 vaccination program has been affected due to a pause in vaccine exports by the Indian government.
The country has only received vaccines from two other sources, the COVAX facility and the African Medical Platform. Prime Minister Holness said that by sharing vaccines with poorer countries, the South African government is setting an example for other nations to follow.
"This has not only become a critical lifeline for our COVID-19 vaccination response but a flagship example of South-South Cooperation on critical developmental matters, leveraging the purchasing power of Africa as a whole on behalf of smaller more dispersed populations," Mr. Holness said.
Prime Minister Holness has called on major countries like the United States to share their stockpile of vaccines with countries in the Caribbean region.