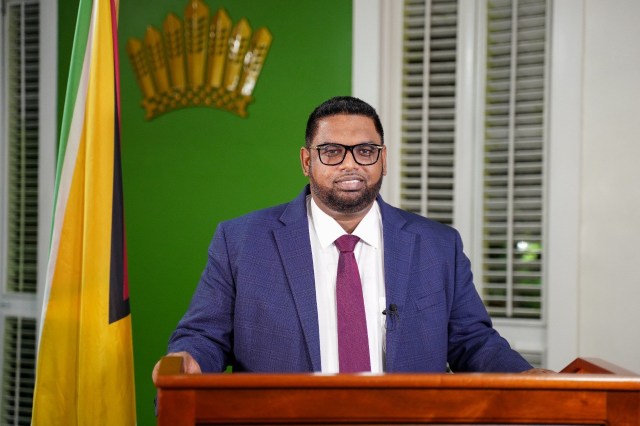 President Dr. Irfaan Ali on Wednesday condemned the latest killings in Guyana as protestors continued to block roads demanding justice for two cousins who were brutally slain over the last weekend.
Police confirmed that 17-year-old Haresh Singh, the grandson of one of the seven suspects held in connection with the murders of Isaiah and Joel Henry had been killed as well as 34-year-old Chatterpaul Harripaul, whom they said had exited his vehicle with a shotgun and discharged one round into the air before discharging three rounds towards a crowd of protestors who were about 60 meters away.
Police said the crowd retaliated by attacking and beating Harripaul who was later pronounced dead at the nearby Fort Wellington Hospital.
The murders of the Henrys have led to street protest with residents of the West Coast, Berbice demanding justice for the cousins, who according to the post mortem died as a result of haemorrhage and shock due to multiple incised injuries.
In a statement, President Ali said the criminals who snuffed the lives out of Joel and Isaiah were barbaric in nature.
"There is no other way to describe it. The criminals who snuffed the life out of Haresh Singh… are equally barbaric. It is in the interest of all Guyanese, of all of Guyana that these criminals are brought to justice swiftly."
Ali said that he had the "unfortunate task" 'of speaking to the grandmother and brother-in-law of Singh just as he had spoken to the relatives of the two cousins and that "the pain is immense, the pain, and the grief, is immense.
"The criminals who are robbing people, the criminals who are beating people, the criminals who are chopping people, need to be brought to justice also. There is no other way to describe this. It is criminality, it has nothing to do with standing up for justice.
"Raping people's children, robbing people, trampling upon other rights, beating people, damaging property of innocent people, has nothing to do with justice. It is selfish, destructive and a flagrant disregard for the rule of law and the rights of people," Ali said.
He said while he could understand the hurt being felt along the corridors in Region Five; he personally had spoken to "many families who were beaten, robbed, traumatised, had their property destroyed. "Today, farmers' rice fields are burnt. No leader can condone this," he said, using the occasion to criticise statements made by Opposition Leader Joseph Harmon, which he said were "unhelpful to the situation. "For a matter of fact, it is his statement that would have ignited the situation on the ground. Calling this a struggle against a fraudulent government and oppression tells you the extent to which Mr. Harmon is trying to misuse the circumstances that surround us as a nation.
"The death of these three young men has nothing to do with oppression of any Government. This is not a struggle against a fraudulent Government. We respect the rights of every single Guyanese to peacefully demonstrate, to peacefully let their feelings and thoughts be heard, that is our fundamental right that this Government supports," Ali said calling on the Ethnic Relations Committee (ERC) to investigate the statement of the Opposition Leader, which he further described as "inciteful and filled with hate".
The Opposition Leader had earlier said that the protest action had nothing to do with racial intolerance, saying "we stand in solidarity with the people who are peacefully protesting this injustice.
"What we do not agree with is people injuring people and so on. We do not agree with that. We do not agree that there should be any Black and Indian fighting and all of that. We believe that this, here, is a fight for justice," he said.
Harmon said that the fight is against the now ruling People's Progressive Party's which he described as a "government that is in there fraudulently.
"I am calling on all of Guyana to recognise that this is not a struggle between the races. This is a struggle against oppression, is a struggle against fraudulent government and we must stand united against that," he said.
The Guyana Human Rights Association and several other organisations including the Muslim Youth Organisation, Corentyne Berbice Chamber of Commerce, Private Sector Commission and the Guyana Presbyterian Council have also condemned the murders.
Ali said that as head of state "it is painful to address fellow Guyanese on the death of young men, the brutal murder of young men, three young men now.
"The murders and barbaric individuals, not worth to be classified as humans, must be brought to justice in all three instances and will be brought to justice. And those who are causing chaos and havoc on the streets, criminals disguising in protest, robbing people, beating people, burning property, you are acting unlawfully and the police has assured me, the Joint Services have assured me that they are not going to tolerate this type of behaviour.
"As Guyanese, this is the time for us to act in a responsible manner. This is the time for us to act in a mature manner; this is the time for us to bring Guyana together. Leaders must not misuse the circumstances. They must not use this as a tool to achieve selfish desires. They must not see this as an opportunity to whip up trouble in our country," he added.
CMC